24 June 2007
Two paramilitary rangers, two Buddhists shot dead and burned in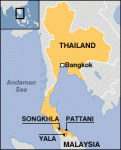 Suspected Muslim insurgents in southern Thailand fatally shot two paramilitary rangers and two Buddhists, then set their bodies on fire in two separate incidents on Sunday, police said.
The rangers, identified as Chakkraphong Oan-nguen and Thawatchai Maneesaeng, were attacked as they were riding a motorcycle back to their base after shopping in Narathiwat's Rue So district, said Police Sub. Lt. Woraphong Klomsakul.
The assailants shot the two men, then burned their bodies and took their assault rifles in the province, 800 kilometers (500 miles) south of the capital, Bangkok, he said.
Brothers Sujin Anubut, 75 and Amphan Anubut, 60, both Buddhists, were shot dead and their bodies were burned in Pattani's Ya Ring district, 750 kilometers (470 miles) south of Bangkok.
They were riding a motorcycle to a friend's house when they were attacked, said police Maj. Uthai Chaimala.
The vast majority of Thais are Buddhists. Muslims, a majority in the country's far south, have long complained of discrimination.
More than 5,000 government-hired paramilitary rangers have been deployed in the southernmost provinces of Pattani, Yala and Narathiwat to help combat the raging Muslim insurgency there.
The military has recruited local Muslims and Buddhists to join the army-trained units, hoping their familiarity with the geography and residents could give the government an edge over the guerrillas.
Many Muslims hold a deep hatred against the paramilitary rangers, who have a reputation for past abuse and human rights violations in the areas.
The insurgents have targeted Buddhists living and working in southern Thailand. However, violence against Muslims _ mostly working for the government _ has increased in recent months.
Thai military authorities have blamed such attacks on Muslims bent on intensifying hatred against the government, and on radicalizing Muslims and pushing them into joining the insurgency.
Some Muslims believe the security forces, or even Buddhist vigilantes, might have a hand in the attacks.
Since the rebellion flared in the three southernmost provinces in early 2004, near-daily bombings, drive-by shootings and other attacks have killed more than 2,300 people.
The government says it is seeking talks with the rebels and has adopted a ``hearts and minds'' approach to ending the insurgency, reversing former Prime Minister Thaksin Shinawatra's hard-line military style. But the rebels have intensified their violence