08 June 2007
Exclusive: Infiltration of Schools: Another Tactic of Islamists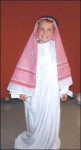 Why is it that Christianity is not allowed to be taught or even referred to in our public schools, but that Islam is? And what kind of Islam is being taught? An idealized version or the real deal? FSM Contributing Editors Mark and Renee Taylor ask many more tough questions of our educators.
In a society that has spawned government-funded public schools that either preach or teach "understanding" and "tolerance" for white-washed versions of Islam, gay marriage, illegal alien amnesty, promiscuous sex, drug use and more, a teacher at Enloe High School in Wake County, North Carolina, has been suspended and transferred to another school, even though his students are protesting that move. His crime? Not the usual "sex with a student" that has been so prevalent in today's newscasts. No, teacher Robert Escamilla invited Christian evangelist, Kamil Soloman, head of Kamil International Ministries Organization, to speak to his ninth grade class in February.
The mission of Kamil International Ministries (Kimo4Jesus.org) is as follows: "

Kamil International Ministries Organization is dedicated to teaching the truth about Islam. We love Muslims but we believe that Islam is not a Divine faith, Muhammad was not a prophet from God and the Koran is not the Word of God. Our mission is to raise an awareness of the danger of Islam among Christians and equip them to share Jesus with Muslims. We will be glad to impart historical and factual information about Islam."
Soloman is no stranger to the dangers that face a Christian bold enough to stand up to Islam. Having spent time in Egyptian prisons as a "threat to Islam", Soloman's unwavering faith in the teachings of Jesus Christ gave him the strength to survive torture in Egyptian prisons and, after being released from prison and exiled from Egypt, Soloman came to the United States, where he began teaching in churches about the potential dangers of Islam.
KIMO's website has many publications which, without apology, compare the teachings of the Koran against the Bible. Soloman is keenly aware of the radical Islamist enemy and its threat to Christianity worldwide. However, it was the Council on American Islamic Relations (CAIR) that stepped in, forcing the Wake County school district to "punish" Escamilla.
CAIR, recently named in a federal case
as "unindicted co-conspirators" in a criminal conspiracy to support Hamas, a designated terrorist group,

claims it was alerted to Soloman's visit by the father of a Muslim student at the school; he complained about a handout titled, "Do Not Marry a Muslim Man", which seems a reasonable conclusion if one is aware of the treatment of women under Islam (see the film "Submission"). According to CAIR's website, t

he legal director of the Council on American-Islamic Relations, Arsalan Iftikhar, has written a letter to Dr. Adelphos Burns, the superintendent of the Wake County Public School System that read in part:

"It is unconscionable for a teacher at any public school to abuse his or her position of trust by forcing such hate-filled, inaccurate and intolerant materials on students. One can only imagine what a Muslim student in the class might have experienced and how students of other faiths will now regard their Muslim classmates."
CAIR further demanded an apology to the students and disciplinary action be taken against the teacher.
In contrast to this scenario, in October, 2004, "multicultural" trainer, Afeefa Syeed, was brought into government-funded public schools, along with third, fourth and fifth graders from a local Muslim academy in Herndon, Virginia, to teach the lessons of Ramadan. According to the Kansas City Star article on CAIR's website,
Syeed and the children presented the call to prayer in Arabic, displayed prayer rugs and offered tastes of dates. In countless other classrooms across the country, similar efforts were made to educate students about the time of fasting and spiritual reflection for adherents of the world's second-largest religion.
What of the Christian or Jewish children in the Herndon (and all other) schools? Why weren't their own rituals of fasting or spiritual reflection taught or compared or contrasted? Why is the teaching of Islam favored in a government-funded school? And who decides that the teaching of Islam, as delivered in American schools, is in accordance to what Muslims themselves are taught by the Koran? Or that it is in accordance with what is taught in madrassah schools the world over that graduate millions of Muslim children, steeped in hatred and intolerance, who believe Islam should conquer the world and that any American is the devil incarnate? Is that taught in our schools? If schools are really meant to prepare our kids for the real world, why does any school teach a white-washed version of something that could be, and most probably is, an existential threat to our kids and certainly to their way of life?
Ayaan Hirsi Ali, the famous Somali refugee (and former Muslim) who became a Dutch Parliamentarian and was partner to Theo Van Gogh - murdered by an extremist Islamist - believes that Islam must be reformed if it is ever to co-exist with modernity. Uncompromising in this view, she is not at all alone in this belief. Yet it seems to be the agenda of CAIR to infiltrate American schools with the idea that Islam itself is a "religion of peace" while at the same time there is heavy debate and wide disagreement on this, even among Muslims. That doesn't stop CAIR, however; they insist on enforcing totalitarian-like rules on others by remaining determined to silence anyone who questions Islam. Silencing free speech is not the American way.
Escamilla should not have been suspended nor transferred. He should not have, in fact, received any punishment at all. By inviting Soloman to speak to his class, like the administration at the Herndon schools, he was educating his students to the truths about Islam and Christianity. Christianity has been reformed; Islam has not. And because of that lack of reformation, there remain 7th Century Islamist teachings in the Koran still practiced today, strands of which have reached into the 21st century and metastasized into a politicized version of a fundamentalist, or radical, Islam that is fervently practiced today.
One must remember that radical Islam has declared war on the West, and particularly against America and Americans. No matter how CAIR and other apologists try to spin it, the reality is the Koran itself teaches that Islam is not compatible with Christianity and those who do not submit to Islam are to be subjugated or, ultimately, killed. Until such time as there is reformation, this is what Muslims are exhorted to believe. In fact, there has never been a time in history where Muslims and Christians lived together peacefully and the events at Enloe High School are just another example of that fact. No, Soloman was not imprisoned this time for speaking out against Islam; but his free speech rights, in the land of the free, were utterly trampled and denied him. In our estimation, CAIR used manipulation and fear, its own brand of terrorism, to force the school system to break the law and cower to CAIR's demands.
According to an interview with WRAL, Escamilla stated that he has had speakers in his classroom of various religions without reprisal. He further points out that the school has exhibited a double standard with regard to Christianity and Islam.
Just as homicide bombers terrorize communities in the Middle East and terror cells plot mass murder in cities worldwide in order to destroy the Western world, CAIR is using the American legal system and the government-funded school system to deliver its own brand of free speech terrorism to subdue that which they find distasteful.
We are being attacked on several fronts in this war; this is only another tactic used by radical Islam to destroy our way of life.
FamilySecurityMatters.org
Contributing Editor

Editor Mark R. Taylor served in Iraq from January 2004 to May 2005 as a civilian convoy commander. His commentary has appeared in Landline Magazine, American Daily and Townhall.com, and he has been interviewed on a variety of radio programs. His website is
www.uglypuppy.net
.
Renee Taylor is the editor of http://www.greatmindsthinkright.com/, a freelance writer, photographer, home schooling mom and publicist for Joey Holiday. A former truck driver, she has devoted her time to studying convoy operations and promoting the positive image of the American Trucker in Iraq.
© 2003-2007 FamilySecurityMatters.org All Rights Reserved
If you are a reporter or producer who is interested in receiving more information about this writer or
this artic

le, please email your request to
PF@FamilySecurityMatters.com
.
Note -- The opinions expressed in this column are those of the author and do not necessarily reflect the opinions, views, and/or philosophy of The Family Security Foundation, Inc.