08 June 2007
Baghdad Christians threatened with tax, eviction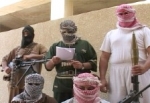 (sacbee.com) An al Qaida-affiliated insurgent group is giving Christians in Baghdad a stark set of options...
BAGHDAD -- An al Qaida-affiliated insurgent group is giving Christians in Baghdad a stark set of options: Convert to Islam, marry your daughters to our fighters, pay an Islamic tax -- or leave with only the clothes on your back.
A U.S. military official said American forces became aware of the threats only last month and now have erected barriers around the largest Christian enclave in Baghdad's Dora neighborhood in an effort to protect its residents.
Christians in Baghdad refuse to discuss the threats for fear of retribution. But in Syria, where thousands of Iraqi Christians have fled, tales abound of families that were killed or driven from their homes because they either refused or couldn't afford to pay the jizya, a tax usually levied on non-Muslim men of military age that's been part of Islam for more than 1,000 years.
"Two or three months ago, we heard we were going to be forcibly removed from Dora," said Rafah Elia Daoud, 53, who fled to Damascus, Syria's capital, on May 24. "Not everyone got a paper with the threat, but we knew. The choice was to convert, pay the jizya or get out."
"My brother was threatened; my sister was threatened. All of them had to pay the jizya," added her husband, Jamal Antone Karoumy, 66. "One of my brothers got a note and a single bullet under his door. The note said, 'If you don't pay the jizya to the resistance, you'll be killed.' "
Madeline Shukr Yusuf, 74, is still shaken by her escape to Damascus on Saturday. She said she didn't have enough money to pay a monthly jizya of 250,000 Iraqis dinars, about $200.
"They wanted to kill me and take my gold bracelets," she said, tears filling her eyes at the memory. "They tell us pay or give a daughter in marriage to a fighter."
Iraq long had been home to thriving Christian communities, primarily Assyrians and Chaldean Catholics, who trace their roots to ancient Mesopotamia. Some of Saddam Hussein's closest confidants were Christian, including his foreign minister, Tariq Aziz. Christian communities were prominent in many major Iraqi cities, including Mosul in the north and Basra in the south.
As Iraq has descended into chaos, however, many Christians have fled, joining an estimated 2.2 million exiles, including 1.4 million Iraqis now estimated to be living in Syria. A Christian Iraqi legislator estimated Tuesday that a half-million Christians have fled Iraq since 2004.
"What is happening today in Iraq against Christians is shameful," Ablahad Afram Sawa said in an impassioned statement read to Iraq's parliament by its speaker. He said Christians hadn't faced such oppression in nearly 2,000 years. "Most of the churches in Baghdad have closed their doors," he said.
It's unclear when the Islamic State of Iraq, an insurgent umbrella group that's dominated by al-Qaida in Iraq, began demanding that Christians either leave their neighborhoods or pay the tax.
A U.S. military spokesman said American troops had been aware that some Christians were being forced from their homes but realized only recently that it was a wide-scale campaign.
Thousands of Iraqi Christians have flooded an industrial area on the southeast outskirts of Damascus. In apartment after ramshackle apartment, Iraqi Christians this week recounted the horror of being forced from their homes after demands for jizya -- or worse.
Yusuf, the 74-year-old who arrived there days ago, said her family couldn't afford the tax the insurgents demanded -- but they also couldn't afford for all the members to flee. So they bundled Yusuf into a rented car headed for the Syrian border with only a few clothes and possessions. She left behind her two daughters and her grandchildren.