22 May 2007
Non-Muslim Overstayer Arrested in Makkah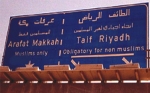 A Sri Lankan Christian was arrested in the holy city of Makkah, which is off-limits to non-Muslims, by the Expatriates Monitoring Committee in Makkah
The authorities were able to verify the identity of the man, who had claimed he had overstayed his Umrah visa, by running his details through a new fingerprints system.
Nirosh Kamanda had arrived in Dammam to work as a lorry driver and had fled his sponsor to sell goods besides the Grand Mosque in Makkah. The man's sponsor denied he knew where the man was working.
He said, "He fled six months after coming to the Kingdom. I have no idea how he reached Makkah."
After his identity became known, the man admitted he was Christian and that he had come to Makkah to earn money. "I heard that Makkah is a safe place, where I could hide my identity," he said.
Col. Suhail Matrafi, head of the department in charge of Expatriates Affairs in Makkah, compiled a report about the case and presented it to Col. Ayid ibn Taghalib Al-Lukmani, the head of Makkah's Passport Department. Al-Lukmani has ordered the man be sent to Jeddah.
"The Grand Mosque and the holy city are forbidden to non-Muslims," said Matrafi. "The new fingerprints system is very helpful and will help us a lot to discover the identity of a lot of criminals and overstayers," he added.
POSTED BY /http://www.arabnews.com/