09 May 2007
It's OK to kill kids in battle: Sheik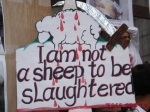 THE deputy spiritual leader of Sheik Taj Din al-Hilali has told his students that it is "obligatory" for all Muslims to engage in jihad if an Islamic country is under attack, even if it means killing the enemy's children
Sheik Shady Suleiman, a youth leader at Lakemba Mosque in Sydney's southeast, told his students in a one-hour Arabic and English lecture that it would be "self defence" to kill children who were attacking them in battle.
Muslim leaders yesterday attacked the 29-year-old cleric, who has a substantial following in Sydney, and accused him of delivering a message contrary to that of Prophet Mohammed who said children should not be killed in war. Prominent Sydney-based imam Khalil Shami said Sheik Shady's message was "dangerous" because it was open to being misconstrued by young Muslims.
"It is very dangerous," he said. "Because ... he puts in their minds that they have to do this, and he prepares them for something wrong for sure." The nation's leading spiritual Muslim woman Aziza Abdel-Halim said Sheik Shady's message diverged from Islamic teachings that prohibit the killing of children.
In a lecture titled Rulings on Performing Jihad, obtained by The Australian, Sheik Shady differentiates between defensive and offensive jihad and quotes the Prophet by saying anyone who fights to defend their land, soul, and wealth was considered a "Shahid" (martyr). "If attackers or invaders want to invade a Muslim country or attack a Muslim country then it's obligatory on every Muslim ... to fight and protect the country," he says.
Sheik Shady says while the Prophet condemned the killing of children, "if they are involved then you have to stop them".
"If you have a child carrying a knife and coming to you, or a sword and coming to kill you in the middle of the battle, they (the fighters) are going to look at him and say 'the Prophet said not to touch him' - no, that's wrong."
Sheik Shady, who is lecturing in Britain, yesterday defended his message on jihad, saying it was a part of a series of lectures delivered in 2002, before the Iraq war - and focused on the collection of the traditions of Mohammed - although a copy of the lecture appears on his website dated May 2004.
He said the lecture was delivered to 60 young men who were advanced in Islamic studies and would not take it out of context and was "not an open lecture", despite being on his website.
"When I said children, I did not mean, of course, if you're going to get a five- or seven-year-old coming to attack you, you can stop him," he said yesterday.
"I was talking about self-defence. If you get attacked by someone, then you have the right to defend yourself. It doesn't mean you go kill them, especially if it's someone young."
Sheik Shady said that while it was obligatory for all Muslims to defend an Islamic nation under attack, there were no Muslim countries living under Sharia law that were currently under attack.
POSTED BY /http://www.theaustralian.news.com