05 May 2007
INDONESIA: JUSTICE OVER 'ANTI-KORAN' VIDEO, SAYS ISLAMIC OFFICIAL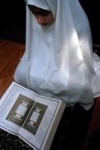 A top official from Indonesia's highest Muslim authority, the Majelis Ulama Indonesia (MUI), says he hopes that some 60 Christians being sought in connection with the production of a video allegedly containing anti-Islamic sentiments should
be brought to justice. "We don't want revenge but only justice," Muhammad Nidzom Hidayatullah, executive secretary of the MUI's Malang branch in East Java told Adnkronos International (AKI).

Some 41 people have already been arrested over the video which was reportedly shot last December at a religious gathering held by members of a Christian students organisation, the Lembaga Pelayanan Mahasiswa Indonesia (LPMI).

Those arrested face blasphemy charges and if convicted they could be imprisoned for up to five years.

"Now the police are widening their search to other areas like Bali and Nusa Tengarr," said Hidayatullah, adding that he is in contact with authorities and has told them where some of those allegedly involved came from.

The video reportedly shows a ceremony where a number of youths dressed in what appears to be traditional Islamic style clothing pray while Christian religious hyms provide the background music. At one point a preast who is leading the ceremony pulls out a copy of the Muslim holy book, the Koran, and pointing at it says: "this is the source of all Indonesia's ills, violence and terrorism."

The LPMI's national representative, Philipus, in a recent intervieiw with AKI said that the ceremony had been organised by the LPMI's Malang branch and that the video footage did not reflect the national organisation's views.
POSTED BY /http://www.adnki.com