21 April 2007
Turks Slit Bible Publishers' Throats & Other Muslim Macabre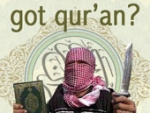 Turkey prides itself in being a secular country, not bowing down to barbaric type atrodicites in other Muslim countries. That is one appeal Turkey has in its hopes for membership in the European Union. However, to date the EU has not permitted such membership. Good.
UPI now reports that three Bible publishing house employees were discovered with hands tied behind their backs, their throats slit. That's what they get for being Christians in Turkey.

"Attackers in Malatya, Turkey, slit the throats of three people Wednesday at a company that publishes Bibles."

It is particularly risky to be a Christian in Turkey, though Turk officialdom states otherwise in its public relations presentations.

"Security officials told Today's Zaman, Turkey's third-largest newspaper, that four people were detained after the killings at the Zirve Publishing House. The lone survivor, who jumped off the building apparently to escape the attackers, was hospitalized and listed in critical condition with a head injury, the report said.

"The NTV news channel showed video of police wresting one man to the ground and of several young men being taken from the building.

"A statement issued by Malatya Gov. H. Ibrahim Dasoz said three bodies were found inside, blindfolded with their hands tied behind their back and their throats cut. One of the victims was a German citizen, the newspaper reported.

"A Roman Catholic priest was fatally shot last year in the Black Sea city of Trabson but Dasoz said Christian missionary activities were not particularly intense in the Malatya region. The publishing house had received threats over its publications."

So goes the modern-day Turk society that boasts of its tolerance for persons of all world religions.

Now to Iraq: Some zealot Muslims have climbed atop church roofs to rip off the crosses.

Christians have been threatened with their lives if they do not remove crosses from their churches.

Per AsiaNews: "'Get rid of the cross or we will burn your Churches'. This is the threat aimed at the Chaldean Church of Sts Peter and Paul, located in the ancient Christian quarter of Baghdad, Dora.

"Local sources say an unknown armed Islamic group is behind the threats which are inseminating terror in the capital. The Arab website Ankawa.com and Aina news agency speak of a campaign of persecution in act in the area. Even Mosul, a Sunni stronghold, the Christian presence is being gravely threatened.

"Msgr. Shlemon Warduni, Chaldean auxiliary bishop of Baghdad, tells AsiaNews 'in the last 2 months many Churches have been forced to remove their crosses from their domes'.

"In the case of the Church of St. George, assira, Muslim extremists took the situation into their own hands: they climbed onto the roof and ripped out the cross.

"In the Chaldean Church of St John, in Dora, which has been without a pastor for months now, the parishioners themselves decided to move the cross to a safer place following repeated threats."

Christians in droves have fled Iraq. Many remaining there have been slain by zealot Muslims.

Christians are considered damned. They are the chief infidels and therefore, according to the Koran, must be eliminated from the planet. They deserve eternal fire, per Koran's murder and maiming verses. Allah has spoken.

"The same threats which have arrived at the Church of Sts Peter and Paul, which has so far however withstood intimidation: the cross hasn't been removed but the threats continue.

"'The Iraqi people are tired – says Warduni – we have been suffering for far too long the situation has become unsustainable; we ask God to give us peace. The Christians, just like the Muslims, want to rebuild Iraq, we don't want to be forced to flee, because this is where we were born, this is where we have lived our lives'"

Yet Iraqi conflict will continue for decades. Muslim factions are in civil war while multinational troops are caught refereeing. Extremist Muslims are quite pleased with the multinational troops remaining for that gives them all the more the rationale for slaughtering Christians in particular.

Even if it means bombing their own neighborhoods, zealot Muslims will slay Muslims in order to slay one Christian or burn one church. This will not cease.

"The Islamic group active in Dora seems to have delivered an ultimatum to the Christian community there: convert to Islam or die; moreover reports say that they have delivered a Fatwa forbidding Christians to wear the cross or make any religious gesture. It also permits the confiscation of goods and properties belonging to the Christian families who find themselves forced to flee their homes for safety at short notice."

It is hoped that from this carnage will come truth. If truth comes to the fore for free nations' attention, then hopefully those republics will set up forces by which to suppress, then eliminate extremist Islamic fanatics. Wherever such fanatics move, even in non-Muslim environs, they take with them their slaughtering-Christians agenda.

"Baghdad's Christian community's worries have been added to by the US military's decision to forcibly occupy Babel College, property of the Chaldean Church. The Babel, the only faculty of theology in the country, houses on of the most ancient religious libraries in the region, full of priceless manuscripts.

"Because of the increased insecurity in the city and continual abductions of religious the faculty had transferred to Ankawa, in Kurdistan January last, leaving the building empty. The US military are now using it as an observation outpost.

"The building is located at a strategic crossroads: within a Sunni enclave, in front of a Shiite district. Leaders from the local Church are discussing the issue with military representatives. Apparently they have promised to abandon the structure in the coming weeks."

And now to Europe: "These policies mainly aim to reassert the primacy of the home culture with language requirements, citizenship tests and tougher criteria for prospective immigrants," per AP's Jamey Keaten.

Islamic intrusion upon European cultures is turning Europeans into national identity sensitive citizens.

"In the Netherlands, a powerful nationalist movement sprang up around charismatic Pim Fortuyn and won a place in the coalition, only to fall apart after Mr. Fortuyn was assassinated in 2002. But his ideas live on in the citizenship tests and deportations of asylum-seekers, which are now Dutch policy."

None of this is any too soon. And America had better take warning, especially when Washington is advocating for 21,000 new immigrants from Muslim countries. Will they be screened adequately? Or will they be given the red carpet express as was done with 7000 Russian Muslims given houses, furniture, pensions, health coverage and US citizenship in a Philadelphia suburb?

"In October, Austria's two rightist parties won more than 15 percent of the vote—far short of the stunning 26.9 percent that firebrand Joerg Haider received in 1999 but enough to trouble the moderate majority.

"The anti-immigration Danish People's Party, formed only 12 years ago, is the third-largest faction in Denmark's parliament. Far-right parties also made electoral strides last year in Sweden and Belgium."

A nation cannot afford to be fooled by the so-called 'intelligentsia' within Islamic applicants. There are scores of those who advocate the sharia — the barbaric "justice and legal system" based upon the murder and maiming verses of the Koran. Just because a Muslim has a degree or a white-collar profession does not mean that individual is not a zealot Muslim, the latter seeking to abolish all non-Muslims from the planet.

"In Germany, far-right parties remain a fringe movement, but hold seats on three regional legislatures in the formerly Communist east. Officials say crimes by far-right groups and attacks against foreigners rose 16 percent last year.

"The hard right does not appear to be drastically bleeding supporters as the center co-opts its agenda. On the contrary, many nationalist groups appear to be enjoying a resurgence.

"In France, 78-year-old Mr. Le Pen is gloating as front-runners Nicolas Sarkozy on the right and Segolene Royal on the left hoist two of his pet issues—immigration and national identity—to center stage.

"While neither Mr. Sarkozy nor Miss Royal echo his call for zero immigration, Mr. Sarkozy says he wants to exert more control over it by creating a Ministry of Immigration and National Identity. He also has used a variation on Mr. Le Pen's longtime catch phrase, 'France: Love it or leave it.'

"Miss Royal, polling second, calls for all French to keep a national flag in the home and asks supporters to sing the national anthem, 'La Marseillaise,' at her rallies."

This is good news in light of the fact that certain locales in France are so taken over by Muslims that police have given a "hands off" approach to those areas. The authorities cannot cope with what is going on within those densely populated areas, hence a nation has been created within a nation. Can this continue? And will it spread?

Could this happen in the US? In Canada?

"When France last elected a president, the far right's Jean-Marie Le Pen shocked the world by muscling his way into the runoff against incumbent Jacques Chirac. The outcome seemed to underline rising fears of an ultranationalist resurgence across Europe.

"Mr. Le Pen ended up soundly beaten in 2002 and is unlikely to repeat his first-round success in a presidential election on Sunday. But with polls giving him up to 16 percent of the vote, it's clear his France-first slogans still resonate.

"The same issues preoccupying the French—jobs, immigration, integrating a large and restive Muslim minority—have catapulted many of Mr. Le Pen's views into the mainstream, with leading candidates both left and right co-opting elements of his ideas.

"It's a phenomenon seen across Europe: Deep anxieties over security and unemployment have fed a sharp shift to the right, forcing mainstream politicians to embrace policies that just a few years ago would have seemed the exclusive terrain of ultranationalist forces."

The same ideological wrestling goes on throughout North America. In Canada a soccer player was told to remove her veil if she expected to play the sport. In the US cabdrivers were told to carry passengers whose possessions include alcohol, the latter prohibited by Muslims. This policy could put scores of drivers out of work; nevertheless, the policy stands firmly.

"Tony Blair, Britain's center-left prime minister, campaigned two years ago on the slogan 'Your country's borders protected,' while his conservative rivals proposed HIV and tuberculosis tests for immigrants. A fringe nationalist party scored well in local elections in May."

Per AP in the US: "The operator of the Minneapolis-St. Paul International Airport on Monday approved tougher penalties for cabdrivers who refuse service to travelers carrying alcohol — a policy that will affect hundreds of Muslim drivers."

Fine.

"On a unanimous voice vote, the Metropolitan Airports Commission agreed to rules that will suspend a driver's airport taxi license for 30 days the first time the driver refuses service and revoke the license for two years after the second violation. The new penalties take effect May 11.

"Commissioners hope the rules will end an issue simmering for the past several years.

"More than 70 percent of the cabbies at the airport are Somalis — who are commonly Muslim — and many of them claim that Islamic law prohibits them from giving rides to people carrying alcohol.

"Under the airport's old rules, a driver who refused to transport someone carrying alcohol would be told to go to the back of the taxicab line. Since January 2002, there have been more than 4,800 instances of a driver refusing service because a customer possessed, or was suspected of possessing, alcohol, and airport officials said.

"Commissioners said the old rules didn't prevent customers from being stranded at the curb or — as reported in a few cases — dropped off before their destination after drivers learned of their alcohol on board."

It's not alcohol per se. It's that fanatic Muslims make such a dictate to an American company. That simply cannot take place if America wants to remain America. Zealot Muslims know no limits. For example, take Iraq. For example, take Afghanistan.

"The airport dispute is one of several in Minnesota involving Islam and the public sphere."

Back to France: There are plenty of French locales were French police have signed off. They won't go there. The Muslims rule. France has pulled back its French rule. In other words, Muslims have created their own nation within a nation.

The locales are known as Zones Urbaines Sensibles — Sensitive Urban Zones. That means that these areas are off limits to French authorities.

This could happen in any free nation. It could happen in North America to both the United States and Canada. Once the fanatic foothold goes over the line, then the civil host nation pulls back to permit a Muslim nation within another nation. It could spread across the planet.

The latest tally is that there are 751 such French conclaves, per whispur. They are listed in one long webpage. There street addresses are typed. Map locations are provided. It is that bizarre.

Read http://i.ville.gouv.fr/divbib/doc/chercherZUS.htm

It's entitled ATLAS DES ZONES URBAINES SENSIBLES Décret n°96-1156 du 26/12/1996 / Pour rechercher une ZUS utiliser la fonction Edition/rechercher de votre navigateur (ou Ctrl + F).

Can one imagine the French reaching such a cultural, authoritative low?

"The ZUS came into existence in late 1996. Nearly 5 million people live in them. For an insight into how bad things are, the police in Lyons demonstrated on Nov. 9, denouncing 'violence against the forces of order.' Things have reached a pretty sad state when the police have to demonstrate in the streets against the criminals."

The flip side of no-go zones is extending Islamic law, the Shari'a, which is also taking place in Europe. In Italy, for example, hudud punishments have included the cutting of limbs by vigilantes acting on behalf of unofficial qadis. According to a BBC Radio 4 program, Islamic law is gaining in parts of Britain.

It provides an example, as reported in the Daily Telegraph:

"Aydarus Yusuf, 29, a youth worker from Somalia, recalled a stabbing case that was decided by an unofficial Somali 'court' sitting in Woolwich, south-east London. Mr. Yusuf said a group of Somali youths were arrested on suspicion of stabbing another Somali teenager.

"The victim's family told the police it would be settled out of court and the suspects were released on bail. A hearing was convened and elders ordered the assailants to compensate their victim. 'All their uncles and their fathers were there,' said Mr. Yusuf. 'So they all put something towards that and apologized for the wrongdoing.'

"Faizul Aqtab Siddiqi, a barrister and principal of Hijaz College Islamic University, predicts that there will be a formal network of Muslim courts within the decade."

Regarding Islamic spread in Britain, read "Sharia law is spreading as authority wanes" http://www.telegraph.co.uk/news/main.jhtml;jsessionid=Y3U...

In Canada, a soccer player does not wear the hijab, the veil. Basic reasoning would state that the veil is a hindrance in such a sport.

Yet here is the woe from the 11-year-old girl's mother, Maria Mansour: "'I strongly oppose, I do think so, because soccer is soccer whether it's in Ontario or Quebec or Europe and it's not right at all to not allow a Muslim girl who's proud of her religion to play soccer, a sport she loves so much.

"'It took a lot out of me to see my daughter in the middle being humiliated in front of a lot of people.'"

Too bad.

When are the Muslims immigrating to non-Muslims environs going to realize that they cannot press their culture on another society? It won't work. It should not work. Yet they, instead of dialoguing, demand at every turn.

"An 11-year-old Muslim girl was ejected from a soccer game for refusing to take off her hijab, reigniting Quebec's debate over reasonable accommodation for minorities and even prompting comments from Premier Jean Charest.

"Quebec's soccer federation said Asmahan Mansour of Ottawa was given the choice of taking off her hijab or not playing in a Sunday tournament in nearby Laval. It says the hijab an Islamic veil or head scarf violated a no-heargear rule set down by the sport's governing body for safety reasons," per AP.

"Quebec Premier Jean Charest, himself a one-time soccer player, weighed in on the issue Monday.

"'My understanding is that the referee applied the rules of the soccer federation and that's why that decision was made,' Charest said."

Of course the Muslim Council of Montreal weighed in on Charest by calling him all sorts of names and blackballing his position.

Surprised?

Copyright © 2006 by J. Grant Swank, Jr.