17 April 2007
Mob kills 13 in northern Nigeria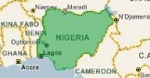 KANO, Nigeria, April 17 (Reuters) - A mob killed 13 people in an attack on a police station in the northern Nigerian city of Kano on Tuesday, four days after unidentified gunmen shot dead a hardline Muslim cleric.
Police said the mob, suspected to belong to a radical Islamic sect, burned the police station in the Panshekara district and killed the officer in-charge, his wife, and 11 other officers during the dawn attack.
"The fundamentalists are looking for anybody in uniform," one officer told reporters. "We are waiting for reinforcements to storm their hideout."
It was the second attack on a police station in northern Nigeria's biggest city in a week. The sect killed a divisional police officer in an attack in the Sharada district last week,
Saudi-educated cleric Sheik Jafar Adam was shot five times at close range while praying at the Dorayi Central Mosque on Friday. He died of his wounds before reaching hospital.
Kano is one of 12 northern Nigerian states which introduced sharia law in 2000. The move by state governors alienated Christian minorities and sparked violence. Southern Nigeria is predominantly Christian.
Kano has seen several bouts of ethnic and religious bloodshed over the past few years, and tensions are running high in the city of 6 million because of state elections held on Saturday and a presidential vote on April 21.
It was not clear if the latest violence was connected to the elections.
POSTED BY /http://www.alertnet.org