04 April 2007
ITALY: PROSECUTORS TO PROBE IMAM'S ALLEGED 'DEATH TO CHRISTIANS' CALL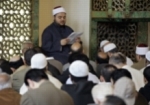 Prosecutors in the northern Italian city of Turin were scheduled to start investigating on Tuesday footage of an imam at the local Cottolengo mosque, Mohammed Kohalia, calling on Muslims to hate
Christians and Jews and praying for their death. "The Prophet has said that the extremists [Jews and Christians] will be destroyed," the cleric is heard as saying in footage secretly filmed by a journalist. "Allah should kill the polytheists." Kohalia has denied making those statements.

The DVD portraying Kohaila's sermon was filmed with a hidden camera by a faithful attending the prayers on behalf of a news programme on state broadcaster RAI's second channel, Annozero. Only part of the footage was broadcast last Thursday while the remaining 40 minutes containing the harshest threats against Christians and Jews could reportedly be shown later this week.

The footage also allegedly shows magazines calling for jihad, or holy war.

In the video, Kohaila says that "no compromise can be reached with atheists, they must be killed, full stop."

He also talks about women saying that "men are superior: a 500 [small FIAT car] cannot compete with a Ferrari" and tells the gathering that men should beat women who disobey.

Kohaila's predecessor, Bouriqi Boutcha of Morocco, was expelled from Italy in 2004 on suspicion he was linked to Islamic militants.
POSTED BY /http://www.adnki.com