19 March 2007
Three Buddhist women dead in south Thailand attack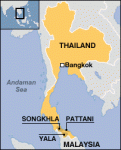 Suspected separatist militants on motorbicycles killed three Buddhist farmworkers in Thailand's far south as
they travelled to work on Monday, a local official said.

Four gunmen ambushed a pick-up truck carrying 19 farmworkers in Pattani, one of three far south provinces where most of the separatist violence has occurred over the past three years, the official said.

The attack took place as General Sonthi Boonyaratglin, Thailand's first Muslim army commander and leader of a September coup which ousted Prime Minister Thaksin Shinawatra, flew to the region where more than 2,000 people have been killed.

His visit followed an attack by gunmen on an Islamic boarding school in nearby Songkhla province on Saturday in which three Muslim boys were killed.

Police blamed separatist militants for the attack but angry villagers accused Thai army Rangers, saying they did not believe Muslims could have been responsible.

On Sunday, attackers shot dead a man and two women, all Buddhists, in another part of Songkhla. The man, a rubber tapper, and a mother and daughter taking a break from work at a charcoal furnace were killed by gunmen on motorcycles, police said.

The insurgency in the provinces of Pattani, Yala and Narathiwat -- an Islamic sultanate until annexed by Bangkok a century ago -- has shown no signs of abating since the coup and a government apology for Thaksin's hardline policies.

Thailand's overwhelming Buddhist majority was incensed last week after suspected militants killed eight Buddhists in an ambush on a civilian minibus.
POSTED BY/http://www.reuters.com