07 March 2007
Accused cry 'Allah Akbar'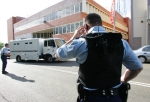 ALLAH Akbar". With those words the nine men charged with plotting a "violent jihad" on Sydney yesterday broke their silence for the first time since their arrest 18 months ago.
Their voices echoed loudly down the corridors of Penrith Local Court as they were led down to the cells from the heavily fortified courtroom.
They repeatedly yelled out "Allah Akbar" – Arabic for "God is Great" – while smiling broadly and waving to supporters who stood near the court door being heavily guarded by sheriffs.
Echoing just as loudly was the voice of crown prosecutor Wendy Abraham QC who spent just over three hours outlining the case against the nine terror suspects.
They stand accused of conspiring to launch a deadly attack on Sydney.
Investigators spent months tracking the alleged activities of the men, including their alleged stockpiling of potentially deadly chemicals including hydrochloric acid, sulphuric acid, citric acid and acetone.
The men allegedly went to extreme lengths to purchase the items. Moustafa Cheikho allegedly bought 24 bottles of hydrogen peroxide from a chemist in Menai in a single go when chemists usually store just six bottles of the chemical.
Mohamed Ali Elomar is accused of stockpiling more than 28,000 rounds of ammunition – including 12,000 rounds used in SKS assault rifles and AK-47 machineguns. The court heard it would have given the men 34 hours and 38 minutes of continuous firing.
Buying the chemicals and other items from stores across Sydney was not cheap, with Mirsad Mulahalilovic allegedly commenting the PVC pipes he'd bought from Bunnings at Bankstown were "a little expensive".
The Crown alleges the pipes were being used to make pipe bombs which could pass through detectors without being caught.
Extraordinary measures and months of preparation had gone into ensuring Penrith Local Court was secure to handle the biggest joint terrorism trial in the country's history.
Police stood guard outside the court in Henry St as officers searched for bombs under parked cars, in drains and the roof of the building.
Rare glimpses of the accused revealed two were dressed in prison greens and another six in traditional Islamic robes. Bosnian Mirsad Mulahalilovic was the only one dressed in a suit and was sporting chin-length blond hair.
One of the men was also seen with his right arm in a sling.
Friends of the men crowded around the entrance to the courtroom in the hope of catching a glimpse of the suspects.
Their efforts were rewarded at the lunch break with the alleged terrorists seen smiling broadly and waving to their friends.
Workers from a nearby cafe were seen delivering boxes of sandwiches to the court which were taken down to the cells. One of the boxes was marked with the word "halal".
POSTED BY/http://www.news.com.au