06 February 2007
Radical: Behead Muslim soldiers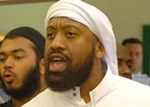 Dramatic footage has emerged of an Islamic extremist calling for British Muslims who join the Army to be beheaded
The film of Abu Izzadeen, speaking at a London mosque, came to light days after police foiled an alleged plot to behead a British Muslim soldier.
In the video, shown on ITV news, 30-year-old Izzadeen apparently calls the British Government 'crusaders who come to kill and rape Muslims'.
He demands that any Muslim who joins the Army should be punished by having his head removed.
He then shouts: 'Kill him!' The footage was apparently shot two years ago at Regents Park Mosque on a mobile phone and posted on an underground extremist website.
In the clip, Izzadeen says: 'Whoever allies himself with the Kaffirs (nonbelievers) against the believers, he is one of them.
'So those so-called enemies to Allah who join the British Government – 'cos remember the British Government, my dear Muslim brothers, are crusaders – crusaders come to kill and rape Muslims – whoever joins them is a mortal Kaffir.
And his only hukum (punishment) is for his head to be removed.'
Abu Izzadeen is reportedly an exspokesman of radical Islamic group al- Ghurabaa, which is banned in the UK.
His family are Jamaican and he was born Trevor Brooks in Hackney in East London, but converted to Islam in 1994.
In the past Izzadeen has described the July 7 London bombers as 'completely praiseworthy'.
He is best known for shouting abuse at John Reid last year at the Home Secretary's first public meeting with Muslims after taking up the post.
POSTED/http://www.metro.co.uk/