28 December 2006
Muslim commitment ensures peaceful Christmas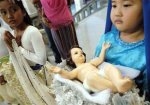 Representatives of the country's most influential Muslim organizations participated in Christmas celebrations held by Christians and supplied 1,500 volunteers to patrol places of worship.

Jakarta (AsiaNews) – Despite the danger of attacks from Islamic terrorists, Christmas celebrations unfolded peacefully across Indonesia thanks to the help of Muslim organizations and the commitment of the forces of order.
Christmas Mass in Jakarta Cathedral was attended by many exponents of the Muslim world, including leaders of the Nahdlatul Ulama and the Muslim United Organization (MUO), two of the most influential Muslim organizations in the country.
Representatives of the same groups participated in a Protestant service held at the Immanuel Church, a stone's throw away from the Catholic cathedral.
Andi Muhammad Soleh, coordinator of MUO, more than 1,500 members of the organization came forward to patrol Christian places of worship to prevent possible attacks.
The governor of Jakartam Sutiyoso spent Christmas night monitoring the situation in the capital: "I am happy everything went on calmly and in peace." Superintendent Ketut Untung Yoga Ana, a local police spokesman, said "more than 20,000 officers were on alert to monitor celebrations for Christmas, the Idul Haj and the New Year."
In Java, thousands of Catholics went to mass in the church of the Blessed Virgin Mother of Christ in Wedi Parish. Despite heavy rains in the area, the community gathered to celebrate the birth of the Saviour.
In Yogyakarta, eastern Java, the most well attended mass was that celebrated in the open air at Tritis shrine and broadcast live by Indosair television stationhttp://www.asianews.it