25 November 2006
Islamic fears kill off children's thriller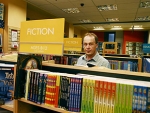 A LEADING children's publisher has dumped a novel because of political sensitivity over Islamic issues
Scholastic Australia pulled the plug on the Army of the Pure after booksellers and librarians said they would not stock the adventure thriller for younger readers because the "baddie" was a Muslim terrorist.
A prominent literary agent has slammed the move as "gutless", while the book's author, award-winning novelist John Dale, said the decision was "disturbing because it's the book's content they are censoring".
"There are no guns, no bad language, no sex, no drugs, no violence that is seen or on the page," Dale said, but because two characters are Arabic-speaking and the plot involves a mujaheddin extremist group, Scholastic's decision is based "100 per cent (on) the Muslim issue".
This decision is at odds with the recent publication of Richard Flanagan's bestselling The Unknown Terrorist and Andrew McGahan's Underground in which terrorists are portrayed as victims driven to extreme acts by the failings of the West.
The Unknown Terrorist is dedicated to David Hicks and describes Jesus Christ as "history's first ... suicide bomber".
In McGahan's Underground, Muslims are executed en masse or herded into ghettos in an Australia rendered unrecognisable by the war on terror.
Scholastic's general manager, publishing, Andrew Berkhut, said the company had canvassed "a broad range of booksellers and library suppliers", who expressed concern that the book featured a Muslim terrorist.
"They all said they would not stock it," he said, "and the reality is if the gatekeepers won't support it, it can't be published."
In March 2004, Scholastic commissioned Dale to deliver "a tough, snappy thriller", with then publisher Margrete Lamond saying they wanted their child readers to "break out in sweats and their eyes to bulge without giving them actual nightmares". Dale, director of the Centre for New Writing at the University of Technology, said he wanted Army of the Pure to be a contemporary action adventure that would appeal to his son, "a book he could not put down".
Scholastic described his writing as "almost flawless" and the story about four children chased by Afghan terrorists after discovering a plot to blow up Sydney's Lucas Heights nuclear reactor a "gripping page-turner".
Dale's agent, Lyn Tranter, yesterday branded the move "a gutless" publishing decision. "I am appalled that this is censorship by salesmen," she said.