18 November 2006
'Robbers had tried to pray at mosque' before PC was shot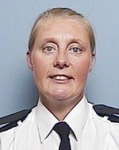 (PC Beshenivsky: murdere) ROBBERS went to say prayers at a mosque two hours before embarking on an armed raid that led to the fatal shooting of
PC Sharon Beshenivsky, a court was told yesterday.
Two members of the alleged murder gang went to a mosque in Leeds for Friday prayers but returned early to their safe house because they had missed the start of the service.
A jury at Newcastle Crown Court has heard that the men were late getting up on the day of the robbery. Four had spent the previous night drinking champagne and vodka before visiting a brothel.
Raza ul-Haq Aslam, who is accused of murder on the basis that he acted as a look-out during the raid at a Bradford travel agency, told the court yesterday about the hours before PC Beshenivsky died and PC Teresa Milburn was injured.
The jury has heard that Mr Aslam was an employee of Caradon Estates, a company paid by the Home Office to provide accommodation for asylum-seekers. One of its properties in Leeds became a temporary base for the men who allegedly carried out the raid.
Mr Aslam, 25, said that he arrived at the house on the morning of November 18 last year to find most of the occupants asleep. He said that he later washed himself in preparation for Friday prayers at about 1pm, but Hassan Razzaq and a man he knew as Uncle returned to the house and told him that the service at a nearby mosque had already started.
Mr Aslam said that he decided instead to pray in the house. He said that he had then planned to buy some food from a local shop but was persuaded by Faisal Razzaq, Hassan's brother and another Caradon employee, to drive with him to Bradford to eat there.
Mr Aslam said that he and Faisal Razzaq travelled in one car and were followed by another vehicle, carrying Muzzaker Shah and two Somali brothers, Yusuf and Mustaf Jama. The prosecution says that these were the three robbers on their way to Universal Express. They are said to have tied up its employees before Shah shot the two officers as the trio escaped.
Mr Aslam said that when they arrived in Bradford, Faisal Razzaq gestured to indicate a road for the second car to turn into. He and Faisal Razzaq parked near by, and went for some lunch. Twenty minutes later they returned to Faisal Razzaq's car.
"There was a lot of police cars flying about the area. Faisal Razzaq looked a bit agitated," Mr Aslam said. Five minutes after they returned to the house in Leeds, he said that Shah and the Jama brothers entered, "shouting and screaming. The loudest person was Muzzaker Shah. They were saying thing like 'We effed up'."
Mr Aslam said that Shah and the Jama brothers started shaving each other's heads. They showered and he heard someone talking about burning their clothes. He said he saw Shah produce "a wad of cash", which he gave to the Jama brothers.
Questioned by Mukhtar Hussain, QC, for the defence, Mr Aslam said that he had discovered what had happened at the travel agency when he watched the news at home in Halifax, West Yorkshire, that evening.
He said that he telephoned Faisal Razzaq, who confirmed that the robbery had been committed by Shah and the Jamas brothers. Under cross-examination by Ben Nolan, QC, for Faisal Razzaq, Mr Aslam insisted that he had not made any mobile phone calls to assist with the robbery.
"I'm not part of Shah's gang. Faisal Razzaq is. Please don't mix me up with him," he said. Three weeks after the robbery, Mr Aslam said that he had told a neighbour, a police officer, that he had information about the shootings and asked him what to do. The officer told him to telephone Crimestoppers, using a pseudonym. He made the call and contacted the incident room. One motive, Mr Aslam admitted, was the £100,000 reward that had been offered.
Mr Aslam, Faisal Razzaq, 25, and Hassan Razzaq, 26, each deny charges of murder, robbery and four firearms offences. Yusuf Jama, 20, admits robbery and two firearms offences but denies murder and two further firearms offences.
Shah has admitted murder, robbery and four firearms offences and will be sentenced at the end of the trial, which was adjourned until Monday.
POSTED BY http://www.timesonline.co.uk