13 November 2006
IRAQ: TERRORISTS BLAST CHURCH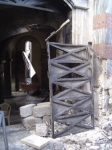 (Compass Direct News) – Unknown assailants bombed the entrance of a Catholic church in Mosul last week, destroying three sets of doors as well as windows in the church, monastery
guest house.
A source near the church at the time of the November 1 blast told Compass that the explosion at 7 p.m. shattered the exterior iron doors of the Dominican Clock Church compound and flattened two sets of wood doors. The discharge ripped through the windows of the monastery chapel where Dominican priests were holding evening prayer.
No one was harmed in the blast.
"The whole area heard the explosion, it was so big," said one eyewitness of the destruction, speaking to Compass on condition of anonymity the evening after the attack.
Three Dominican priests had returned to the church to celebrate mass on Sunday (October 29), after spending a week outside Mosul to avoid the city's daily violence.
"They were afraid of kidnapping but never thought that anything would happen to them if they were inside the church compound," a source close to the priests commented.
The Dominicans believe the attack was more than just a random act of violence, the source confirmed, requesting anonymity for security reasons. "You don't set off a blast that big unless you are planning something more," he said.
No one has claimed responsibility for the attack.
Living with Violence
Fearing further violence, the Dominican priests have relocated to one of several villages outside of Arbil, 50 miles from Mosul, in Iraq's northern Kurdish region.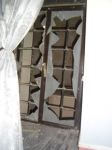 Blown out window from bomb
The move reflects a growing trend among the country's Christians. According to the United Nations High Commissioner for Refugees, 50,000 Iraqis are fleeing their homes every month.
Thousands of families have migrated to the northern region as a result of sectarian fighting in many southern cities that at times has targeted Christians. Still, each week Christians in the northern city of Mosul report kidnappings, killings and extortion at the hands of Islamic extremists.
Priests from Mosul told Compass that they no longer wear their clerical robes on the street and rarely go out in public.
In October, a Syrian Orthodox priest was kidnapped and beheaded in Mosul, and a Chaldean church was attacked.
"All of this has put an end to our apostolic ministry in Mosul," one Catholic priest who requested anonymity told Compass.
Built in 1872, Mosul's Clock Church and its large clock tower are almost as time-honored as the country's Dominican order, established in Iraq more than 250 years ago.
But a source close to the Dominican order told Compass that the priests have been encouraged by new opportunities in Iraq's more secure Kurdish region.
"There is a new hunger and thirst among the young people in the north that has been speaking to their hearts," the source said.
One Dominican father has been asked to teach seminary courses in a Christian village and to work with a Christian organization for the handicapped.
"It's our responsibility not to despair," said one priest, sharing his struggle to believe that God had heard the church's prayers for peace in Iraq. "What can they do to us anyway, other than kill us?"