12 November 2006
Muslims are not doing enough to help this country fight terror, says Met Chief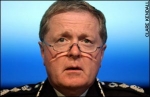 Muslims are not doing enough to help police crack terrorist plots, says Britain's top policeman.
Sir Ian Blair, the Metropolitan Police Force Commissioner, says Muslims initially went into denial over the problem of terrorism. He believes that encouraging greater co-operation will be a "slow" and "delicate" process.
His remarks follow last week's warning from Dame Eliza Manningham-Buller, the head of MI5, that more than 1,600 people in Britain are actively involved in plotting Islamic terrorism.
Sir Ian was speaking during a visit in Berlin, where he delivered a speech calling for an extension to the 28-day limit for the detention without charge of terrorist suspects. In an interview with the German newspaper Der Tagesspiegel, Sir Ian was asked how much help Muslims were giving to police anti-terrorist investigations. He replied: "We're getting more, but we're not getting enough."
He added: "The first reaction of the Muslim communities, as with almost every other immigrant community, is to withdraw and say, 'This is nothing to do with us.' This will be a slow process. It's an extremely delicate one."
A spokesman for the Muslim Council of Britain said: "All Britons, regardless of their faith background, must fully co-operate with the police in protecting the safety and security of our nation. Our understanding is that the police have been receiving an increasing amount of help from British Muslims in this regard."
In his speech, Sir Ian pointed to opinion polls suggesting that between 40,000 and 120,000 Muslims in Britain believed that last year's July 7 London bombings, in which 52 innocent people died, were justified. He said it was shocking that the suspects in the alleged liquid-bomb plot to blow up transatlantic airliners, mostly young British-born Muslims, "were converted from what appeared to be ordinary lives — in a matter of weeks and months, not years — to a position where some were allegedly prepared to commit suicide and murder thousands of people".
The commissioner's comments follow a warning from Tony Blair in July that terrorism could only be defeated if Muslims were prepared to stand up and oppose what he called a "completely false sense of grievance against the West".
However, Sir Ian veered away from the Prime Minister's message by suggesting that the Iraq war may have played a part in turning British Muslims against the West.
He said that while he held no personal view on British or American foreign policy, "my officers and I would be failing in our duty not to take note of the fact that many Muslims and others in Britain do — and have very negative ones".
He lamented the lack of a single community leadership for Britain's Muslims, and said he wanted to recruit more Muslim officers to add to the 300 serving in the 30,000-strong Metropolitan Police.
In his speech, to a conference on cities, Sir Ian called for a package of legislation to assist police in the fight against terrorism.
He reopened last year's political row over the length of time a terrorist suspect can be detained without charge, stating: "In the recent alleged airline plot, we needed all the 28 days in respect of some of the 24 suspects. If there had been more people, we would probably have run out of time. I believe that an extension to the 28 days' time for detention will have to be examined again."
Sir Ian called for changes to the law on contempt of court to allow for the reporting of trials that currently take place without publicity for fear of prejudicing future cases. He said the present law "prevents the public — including in communities from where the suspects come — from seeing justice done".
He also called for police to be allowed to question suspects after charges have been brought.
Sir Ian repeated his demand for phone-tap evidence to be admissible in court, and backed a call by the Met's Assistant Commissioner, Tarique Ghaffur, for a ban on protesters burning flags or covering their faces.
POSTED BY www.telegraph.co.u