09 November 2006
Convert cries foul over unfinished house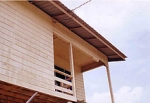 A Muslim convert claimed that he has to fork out about $13,000 of his own money to complete the house which was supposed to be given free to him and his converted family to stay in
He said the contractor who built the house did not complete the house as he had not been paid the cost that he claimed. "The underneath of the roof is not covered, the staircases are made of wood and not in concrete as specified and the toilet floor is also uncovered with concrete," he said.
He said the house costs about $49,000 but the contractor did not receive full payment therefore he refused to complete it. "I have to use my own saving in order to see the house completed," he said.
He added he also needs to fork out money to complete the electrical wiring for the house.
When contacted, a relevant officer at the Ministry of Religious Affairs said the full cost of the construction of the house shall be borne by the ministry.
"However, in order to receive such assistance, an applicant needs to satisfy various terms and conditions such as the need for the person and his family to live separately from his or her own family who are not Muslims," said the officer.
POSTED IT BY Brunei Press Sdn Bhd. All right reserved