26 October 2006
Fears of repeat Paris riots as buses burn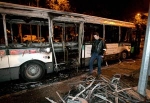 Armed youths today hijacked and burned a bus in Paris on the eve of the anniversary of the riots which tore through France last year.
Around ten hooded men, five of them carrying handguns, put a weapon to the head of the driver and forced him and his passengers off a bus heading to the eastern suburb of Montreuil in the early hours of the morning.
The gang then drove off in the vehicle before setting it alight in the second incident of its kind in Paris within a few hours.
In the other attack in the suburb of Nanterre around ten passengers scrambled to safety after a bus was boarded by a group of six youths who sprayed it with flammable liquid before starting a fire.
French Defence Minister Michele Alliot-Marie said the vandals were guilty of "attempted murder".
Drivers on the Montreuil line went on strike to protest against the attack while the Essonne local public transport network, TICE, said it was suspending all night time bus services on 17 routes because of "a series of "minor incidents".
As the first bus was being attacked youths threw stones at passing vehicles at Grigny, in the south of the capital, as well as police cars that came to the scene while another group stoned police and firefighters who came to put out a burning car in the nearby town of Corbeil-Essonnes.
The flare-ups are raising fears of renewed violence on the same scale as last year's protests when youths burned more than 10,000 cars and damaged 300 buildings with Molotov cocktails in three weeks of rioting.
A security services report leaked to a French newspaper earlier this week warned that the conditions that sparked last year's riots were still in place.
Tensions rose last year after Interior Minister Nicolas Sarkozy was pelted with stones and bottles as he visited the rundown Paris suburb of Argenteuil. He later stated it and other poverty stricken areas should be "cleaned with a power hose" describing violent youths as "gangrene" and "rabble".
Two days later, on October 27, teenagers Zyed Benna and Bouna Traore were fatally electrocuted after climbing into an electrical sub-station in the Paris suburb of Clichy-sous-Bois as they apparently tried to hide from police sparing riots in the areas African and Arab communities which saw 15 vehicles destroyed.
Four days later the rioting spilled out into other areas of Paris after a tear gas grenade went off at a mosque in Clichy-sous-Bois and the following night the police station in Aulnay-sous-Bois was ransacked with 177 vehicles burned.
Rioting then spread to Dijon, Grigny, Stains, Seine-Saint-Denis, Amiens, Lyon, Toulouse and St Etienne.
In an attempt to defuse the growing concerns of a repeat, Dominique de Villepin, the French Prime Minister was today due to speak on the problems of discrimination and joblessness in deprived neighbourhoods in the Paris suburb of Cergy-Pontoise during his monthly press conference.
.timesonline.co.uk