26 October 2006
Fury as BA says it would allow Muslim veil but not cross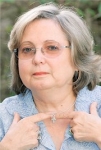 British Airways has been accused of appalling double standards after admitting Muslim staff may be allowed to wear veils - just weeks after it sent a Christian home for wearing a cross
Check-in worker Nadia Eweida has been on unpaid leave for a month after the airline banned her from wearing her tiny cross on a necklace over her uniform.
See more here...
• Prison chapel turned into mosque

BA added further insult to injury yesterday when it said she can return to work wearing her cross -but only if she accepts a back room job where she will not come into contact with the public.
Hours later the airline's muddled thinking was confirmed when a spokesman said any request from stewardesses or other uniformed staff to wear a full-face niqab would be given serious consideration.
'The request would be subject to a rigorous review, taking into account practicality, health and safety and security regulations,' said the spokesman.
MPs described the latest developments as 'ludicrous', while Miss Eweida said the suggestion that she should take a back room job was 'morally degrading'.
She demanded to know why she had to hide her faith from the public when Muslims and Sikhs can openly display theirs by wearing hijabs, turbans, and possibly a full-face veil.
BA says Miss Eweida's cross is a breach of its strict dress code.
Miss Eweida said: 'This is unfair. They are telling me to be out of sight. Why should I be hiding away in a non-uniform position when my Muslim and Sikh colleagues can be seen by the public?
'It is as if the cross is taboo. Despite all the people who have backed me, BA are still anti-cross. What is wrong with a little cross?
'I don't see why I should be ostracised and hidden away. This is a threat for other people and their freedom to express their faith.
'If I go back to work I will be wearing my cross for everyone to see. I will not resign - they will have to sack me.'
The 55-year-old Heathrow check-in worker can return to her old job, in uniform, if she agrees to remove her cross, but has refused to do so as a matter of principle.
The row has attracted international attention as it coincided with Jack Straw's call for Muslim women to remove their veils.
Miss Eweida's case has led to a welter of adverse publicity for British Airways, which appeared to have shot itself in the foot once again yesterday when Miss Eweida's boss wrote to her offering the back room job.
BA world cargo general manager Mark Gardiner said in the letter that the company needed more time to consider a complaint Miss Eweida had brought against the airline, and a final decision on whether she would be allowed to wear her cross would be made in three weeks' time.
Mr Gardiner wrote: 'You can return to work immediately provided you adhere to the current uniform standards.
'If you do return to work in the terminal you will not be given specific consent to display your cross in the workplace as this would breach the existing Uniform Code.'
But he added: 'I am prepared to offer you a temporary non-uniform position in the recruitment team at Cranebank [BA offices at Heathrow].
'This would enable you to return to work and receive salary. In this position you will also be allowed to display your cross, as you will not be required to wear a uniform.'
BA's uniform code bans jewellery from being worn over the top of clothing. But bangles can be worn if they are deemed to be an essential part of someone's religion.
British Airways said yesterday it could not discuss the matter because Miss Eweida's case is still being considered, but senior sources at the airline suggested it is unlikely to back down.
Chief executive Willie Walsh is understood to believe that if Miss Eweida is allowed to wear her cross, the airline will have to allow all staff to wear jewellery over their uniform - whether religious or not - leaving its uniform policy in tatters.
Sources also pointed out that turbans and hijabs are supplied to staff in BA colours as part of their uniform.
But critics have accused the airline of hypocrisy, not only because bangles, turbans and hijabs are allowed, but because the cross of St George is displayed as part of the Union Flag on the tailfin of all of its aircraft.
Miss Eweida, of Twickenham, south west London, has now launched a second complaint against the airline over its decision to suspend her from work without pay despite a senior executive being given paid gardening leave amid a criminal investigation into alleged price fixing.
Commercial director Martin George was paid his £425,000-a-year salary for five months while on leave before he resigned earlier this month. He was also paid a notice period of 12 months salary despite admitting that 'inappropriate conversations' may have taken place in his department.
Head of communications Iain Burns, who also resigned, was paid six months of his £150,000 salary when he left the firm over the row.
By contrast Miss Eweida, whose salary is thought to be under £30,000, has not received a penny since being sent home last month.
Miss Eweida's case - first revealed by the Daily Mail - has been backed by more than 300 fellow BA workers.
Her MP, Liberal Democrat deputy leader Vince Cable said: 'To suggest she could return to work but be out of sight is grossly humiliating. She is proud of her position and she will stick to her guns.
'This makes BA look terrible. It is deeply insulting for BA to suggest that she should hide away because she is wearing her cross. This just adds insult to injury.'
Conservative former minister Ann Widdecombe, who has cut up her BA executive card in disgust at the airline, said: 'This is ludicrous. Either someone can wear their cross to work or they cannot. We need to know once and for all.'