23 October 2006
The Battle for Britistan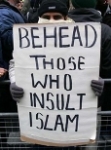 (spectator.org) A couple of weeks ago it was noted in England that the Queen, in order to accommodate a Muslim employee, had an Islamic prayer-room opened at Windsor Castle. This is a very considerable innovation. Windsor Castle and the Town of Windsor are among the most historic and essentially "English" parts of England. Richard the Lionheart...
A couple of weeks ago it was noted in England that the Queen, in order to accommodate a Muslim employee, had an Islamic prayer-room opened at Windsor Castle.

This is a very considerable innovation. Windsor Castle and the Town of Windsor are among the most historic and essentially "English" parts of England. Richard the Lionheart and other crusaders knew Windsor (though the time Richard spent in England between crusades was brief). The castle -- a lifetime would hardly be long enough to explore it -- contains the Chapel of the Knights of the Garter and the town gave a title to one of Shakespeare's most famous plays.

Windsor is one of those places like Winchester and Glastonbury
where the country's ancient spirit seems almost tangibly present. The castle dates from 1070 and has been used by British monarchs ever since. The present Royal House took the name of Windsor in 1917. Eton College is nearby, and the upper Thames which flows through the town is redolent of Jerome Jerome's immortal classic "Three Men in a Boat," with its associations of young men in blazers, cucumber sandwiches, punting, and cricket on long summer evenings. If the England of the imagination is not there, it is nowhere.

A few days after this pretty gesture towards diversity and multiculturalism (though for some reason I can't find any news of Christian chapels being opened in Saudi Arabian palaces in reciprocation), Muslim rioters wrecked a house in Windsor which had been rented by four British soldiers returning from service in Afghanistan.

The soldiers, officers in the Household Cavalry, were also targeted by phone threats. Senior officers warned them against inflaming racial violence by living in Windsor and they were forced to look elsewhere to live.

More rioting followed, centered upon the Muslim-owned Medina Dairy, which has become a base for Muslim activity in Windsor, and where it is planned to build a mosque. Whether the riots were started by Muslims, anti-Muslims, or both, is uncertain.

Meanwhile, a Muslim was allowed to enter a hospital and harass a wounded paratrooper evacuated from Afghanistan, shouting "You have been killing my Muslim brothers!" Relatives of the soldier -- who was too badly wounded to defend himself -- said the man entered the ward, where two other soldiers and four civilians were also being treated, without being challenged by staff. Other seriously wounded soldiers have said they are worried about their safety after being left in wards open to the public at Selly Oak Hospital in Birmingham, a city with a very large Muslim population.

The New Labour government has closed military-specific hospitals -- the last is expected to be sold next year -- and neglected to supply security for the civilian hospitals. It was reported that at one hospital, though the wounded veterans were not actually attacked, they were told that their uniforms were "offensive." However, it was announced after the latest incident that hospital security would be stepped up.

Reports are coming in of Muslim cab-drivers refusing to carry blind people with guide-dogs -- as has also suddenly started being reported in the U.S. This is despite the fact the Muslim Council of Britain has said carrying guide-dogs does not offend Muslim law.


THERE HAVE BEEN SIGNS of a political as well as a popular reaction against the consolidation of Britistan. Labour politician and former Foreign Secretary Jack Straw, with 25,000 Muslims in his constituency, has suddenly come out and insisted Muslim women remove their veils when they talk to him. Previously, as journalist Charles Moore put it: "Mr. Straw has always stood out for his Islamophilia, and has sometimes been craven towards extremists. When the Danish cartoons of Mohammed were published, he attacked the European papers that printed them, not the mobs who burnt the Danish flag. I even have a strong memory -- though I have not been able to trace it -- of him say 'the Prophet Mohammed -- Peace be upon Him' on the radio."

There have been Muslim demands for Straw's resignation. And guess who else attacked Straw for his stand? The Morning Star, ghostly undead successor to the Communist Party's Daily Worker, which still carries the red star of Communism on its masthead!

It seems at least some of the Tories are toughening up too. Tory defense spokesman Gerald Howarth has said Parliament may need to legislate to ban the veiling of women and that "It's time we stood up for our Christian heritage." Such sentiments have not been heard from any mainstream politician for many a long day.

But most incredibly of all, even an element of the Anglican Church, normally seen as having the gumption of a wet crumpet, now seems to be acting up. In an extraordinarily strong document, "Cohesion and Integration," prepared by the Archbishop of Canterbury's interfaith advisor Guy Wilkinson for the House of Bishops, it has attacked multiculturalism and says divisions between communities have been deepened by the government's schizophrenic approach to multiculturalism and "privileged attention" to Islam.

It says the Church of England has been sidelined and preferential treatment has been afforded the Muslim community despite the fact it makes up only two or three per cent of the population. It says Britain remains overwhelmingly a Christian country and moves to label it a multi-faith society suggest a hidden agenda.

The document goes on to list moves made by the government since the 7/7 bombings including using public funds to fly Muslim scholars to Britain and shelving legislation to ban forced marriages. This attempted appeasement has produced no noticeable positive impact on community cohesion, the report says.

Even more astonishingly, it is reported that the Bishops received the document well. One bishop said it was the first time the Church had launched into such a defense of the country's Christian identity. This, says commentator Melanie Phillips, is "a seismic reversal, in a Church that for decades has been its inter-faith knees before multiculturalism and abandoned its defense of Britain's Christian identity. Can it be that Christianity is at last starting to defend Western civilization?"

And is there a new wind blowing through literary and intellectual circles? Speaking at the Cheltenham Festival of Literature, novelist Martin Amis, son of Sir Kingsley Amis, attacked "miserable bastards" in the British Muslim community who were brainwashing young men into joining a death cult.


Hal G. P. Colebatch, a lawyer and author, has lectured in International Law and International Relations at Notre Dame University and Edith Cowan University in Western Australia and worked on the staff of two Australian Federal Ministers.