10 October 2006
Militants kill two children of a missionary couple in Pakistan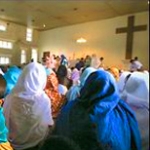 In an horrific incident of Christian persecution on September 1, some unidentified militants slew two children of a missionary couple who is working with At Any Cost Jesus Mission, a underground ministry evangelizing to the Muslim nations
MUZAFFARABAD, PAKISTAN (ANS) - A press release sent via e-mail to ANS by Any Cost Jesus Mission said that the assailants torched the dead bodies of teenaged children Shalom, 15 and Sharon 14 after murdering them brutally in the northern district of Pakistan.
The teenaged victims according to the press release were secondary school students.
"Shalom and Sharon were kidnapped along with their missionary parents and two other younger sisters 10 days before the murder. The militants asked them to convert to Islam but they refused," said the press release.
"So the militants killed Shalom first. Then they raped the girl and cut one of her breasts in front of her parents. She too died", the press release quoted another underground missionary, Habel who it said broke the news to Any Cost Jesus Mission from a hidden place.
"Police and the military forces are backing the militants. Habel and his family was also attacked and their house was burnt but the Lord enabled them to escape to a hidden place. They (militants) also demolished a church and some houses were set on fire too", the evangelization ministry claimed in the press release.
According to the press release the militants set the motorbike on fire by spraying petrol on it and left the dead bodies in a ditch along with a motorbike.
"The police declared a false statement that it was an accident and the petrol tank of the bike was open when they fell into the ditch and burnt by a spark", alleged Any Cost Jesus Mission.
The press release said that the believers are living in a grip of fear and trouble following the killing of Shalom and Sharon.
The ministry further claimed in the press release that the militants are not allowing believers to pray.
"They are not even allowed to speak a single word about Christ or Christianity or Christians", the press release quoted Habel as saying.
The tribal people and their leaders are also being murdered by the terrorists in the Neelum Valley, it said.
POSTED BY
http://www.acctv.com