08 October 2006
Islam's Dark Force - Fear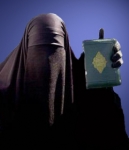 Would you wear a T-shirt with a 'Mohammad' cartoon printed on it? Did this question make you feel uncomfortable? You just felt Islam's dark force. Let me explain.

All Muslims know you can't make fun of Islam. All Muslims know, if you make fun of either Islam, or the Prophet (Mohammad), you have a big problem. An Associated Press article on Thursday September 21, 2006 reported on a meeting of about 1,000 Muslim clerics and religious scholars in Eastern Pakistan. The clerics had met in response to comments made by the Pope. The scholars said, "Infidels, should know that no Muslim, under any circumstances, can tolerate an insult to the Prophet (Muhammad)." They went on to say, "If the West does not change its stance regarding Islam, it will face severe consequences." What do these Muslim scholars mean?
Most non-Muslims are unaware of how important this issue is. But to Muslims, it is a fact of life. If you some how insult Islam, in any way, shape of form, there is a good chance that some unseen, deeply devout, Muslim believer will come out of the woodwork and kill you. It's that simple. These devout killers are simply a fact of Islamic life. As a result, inside Islamic society, virtually no one freely criticizes Islam. That's what the scholars meant.
Theo VanGogh was murdered by one of these deeply devout killers. But Theo was murdered in broad daylight on the streets of Amsterdam, in a Western European society where less than 10% of the population is Muslim.
Mohammed Bouyeri, Theo's murderer told the court, Van Gogh had insulted Islam. "What moved me to do what I did was purely my faith," Bouyeri went on. "I was motivated by the law that commands me to cut off the head of anyone who insults Allah and his prophet."
Theo's murder has had a stifling affect on free conversation about Islam in Western Europe. Theo's murder helped spread Islam's dark force throughout Western Europe.
Flemming Rose is the publisher of the Danish newspaper Jyllands-Posten, which first published the "Mohammad cartoons". He said in a Washington Post article February 19, 2006 he "commissioned the cartoons in response to several incidents of self-censorship in Europe caused by widening fears and feelings of intimidation in dealing with issues related to Islam. … Our goal was simply to push back self-imposed limits on _expression that seemed to be closing in tighter." Flemming Rose was describing Islam's dark force.
Flemming Rose, without knowing it, had also committed one of Islam's big sins. The outcry was heard from Morocco to the Philippines.
Islam forbids any criticism of Islam or of the Prophet Mohammad. It is the ultimate crime. All Muslims know this. They know this fact with as much conviction as non-Muslims know their own name. That is exactly what the 1,000 Muslim clerics and religious scholars (mentioned above) were talking about. Muslims are taught from the youngest age, any criticism of Islam could result in death. It is the reason the Pope's comments and the cartoons caused so much rage.
The creation of "dark force" fear
Islam has a bizarre mechanism in place that enforces this prohibition. The mechanism creates a form of fear I call "dark force". And this dark force permeates Islam and keeps everyone from even questioning anything about Islam.
The mechanism is a man made, intellectual accident, of global proportions. It is an out of control, self-replicating, circular system. It consists of literally tens, if not hundreds of millions of unseen, independent, devout followers, spread throughout the Islamic umma. Theses devout followers (like Mohammed Bouyeri) have been told that it is their religious obligation to carry out Islamic law. And Islamic law says, "cut off the head of anyone who insults Allah and his prophet."
In addition, Islamic law has numerous other passages, which incite these devout followers to violence. To make matters worse, (1) violence justified in the name of Islam is seldom if ever punished inside Islamic society, and (2) devout believers expect heavenly rewards for enforcing Islamic law. They literally believe they have God given incentive to be destructive.
Inside Islamic society, these killers can literally get away with murder by quoting Islamic law. Anwar Sadat was murdered by a group of these devout followers. Most of the killers eventually walked away free.
By combining a claim of religious legitimacy, to independent, violent acts, Islam relies on its most devout believers to keep the system intact.
Because Islam makes a continuous claim of religious legitimacy, Islam, as a system, can rely on a huge, unpaid, unseen, unorganized, individually acting, empowered to act, widely distributed group of highly motivated devout believers to keep the system in control.
These believers interpret Islamic law and act independently, like Mohammed Bouyeri, to enforce it. This is where Islam's dark force comes from. It is the fear of literally millions of these unseen killers, like Bouyeri. This feature is at the core of Islam. This feature is the glue that holds Islam together. Without these killers and the dark force of fear, Islam falls apart. This is the feature that is out of control. This is what must be broken to stop Islamic mayhem.
Take a look at the numbers, and feel the fear.
In Western Europe, Muslim's represent less than 10% of the population. Let's say for the sake of the discussion Van Gogh's killer, Mohammed Bouyeri, represents only 1% of the Muslim population.
Because Muslims only make up 10% of the total Western European population and religious thugs like Bouyeri make up only 1% of the entire Muslim population, that means within Western Europe, murderers like Bouyeri, are only 1/10 of 1% of the population as a whole. That is, one out of a thousand. Yet, even this small number of killers has had the effect, according to, Flemming Rose, of creating "self-imposed limits on _expression that seemed to be closing in tighter."
So now imagine what the fear must be like inside a Muslim society where essentially 100% of the population is Muslim. The fear factor must be at least 10 fold.
But in reality the fear factor is even worse. Because, to make matters worse, you need to take into account other devout Muslims, who may sympathize with the beliefs of the potential killers. According to guardian.co.uk in a September 24, 06 article "one in 10 British Muslims would not inform police if they suspected that someone of the same faith was involved in a terror attack." These sympathizers in reality act as eyes and ears for the killers – spreading and increasing the fear.
If Western Europeans are afraid to talk critically about Islam, imagine what it is like in a 100% Muslim population. Free _expression and critical discussion of Islam within Muslim society is essentially shut off. Shut of by Islam's dark force of fear. Shut off by the fear of the unseen killer.
This fear system is out of control.
Islam not only teaches that any criticism of Islam is punishable by death at the hands of these religious thugs, it also teaches that anyone who tries to change the system should also be dealt with the same way. This feature means that anyone who even tries to question the rationality of the system risks death. Because these killers are literally everywhere, the risk of questioning the system is exceptionally high. As a result no one takes the risk. As each new generation of killers gets religious training, the cycle continues.