25 August 2006
Canadian military seeks Muslim recruits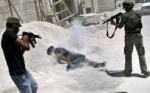 The Canadian Forces want more Muslims among their ranks.There are few Muslims in the Canadian military and that is something that Rear Admiral Tyrone Pile, who is in charge of recruiting, wants to change
on Friday, Pile visited Ottawa Central Mosque in the city's west end to invite Muslim youths to join up.
"The Canadian Armed Forces do not reflect the cultural diversity in this country and that's a pity," Pile told observers at the mosque.
The military does not keep statistics on the religion of its members, but it does know that the number of Muslims who have joined is far less than the average in the Canadian population of about 2.3 per cent.
Cmdr. Denise LaViolette uses another measure.
She said there are only 648 people in the regular Canadian Forces from predominantly Muslim countries, out of a total roster of 62,500. Using those figures, the Muslim ratio is only about one per cent.
In February, Defence Minister Gordon O'Connor announced the government's commitment to increase the size of the regular force by 15,000 members to 75,000 and augment the reserve force by 10,000 personnel.
"The Canadian Forces is really dominated in large part by Canadian white males," Pile told reporters after his address. "In terms of growing the Canadian Forces and expanding … which is our new mandate, that won't be possible to do unless we tap into our Canadian society at large."
Understanding sensibilities
Islam is the fastest-growing religion in the Canada, with an increase of 128 per cent between 1991 and 2001, figures show.
Pile noted that Canada has been involved with Muslim countries for nearly 60 years through its peacekeeping missions in Afghanistan, Bosnia-Herzegovina, Cyprus, Egypt, Jordan, Kashmir, Kosovo, Lebanon, Syria and the Gaza Strip.
Recruiting people of different religions and cultural backgrounds does present challenges, LaViolette said, but the military is doing its best to accommodate their needs.
The forces allow members to wear turbans and special headdresses, eat vegetarian meals and offer daily prayers.
They even tailored special uniforms for the three Muslim women in the forces. The Muslim clothes are looser fitting than usual and include the hijab, the Muslim headscarf.
Pile also wants to establish a program of Islamic studies for the military, possibly through the Canadian Defence Academy and the Royal Military College in Kingston, Ont., educational facilities that come under his command.
Complex culture
These courses would cover Islamic art, architecture, culture, economics, history, jurisprudence and languages so members will better understand a culture that is complex and deep.
The Canadian Forces have one Muslim imam, or chaplain, on the roster. Based in Petawawa, Ont., Capt. Suleyman Demiray has been working with Canadian troops in Afghanistan.
Bader Siddiqi, president of the Ottawa Muslim Association, supports the military's drive to better understand his culture.
"It is a positive when you send a Canadian Muslim" on a peacekeeping mission, Siddiqi said. "It is good to have people serving in the forces who understand the language and culture. There are fewer mistakes, fewer accidents and fewer deaths."
While there are delicate aspects to the recruitment of Muslims, Siddiqi said most can be accommodated. After all, Siddiqi said Muslims have a long tradition of service with the Canadian and British armed forces.
Muslims usually pray five times day, but that requirement can be waived if necessary. Muslims often have special dietary, clothing and other cultural habits, but the military is prepared to work with them.
More delicate is the question of fighting people of their own religion and culture. But Siddiqi said that is an issue for many other people who join the military, including Christians.
Siddiqi did warn that a more aggressive role in Afghanistan could be an obstacle that could harm Canada's reputation as a peace-loving nation.
"I don't think it's a good thing that Canada went to Afghanistan and Iraq and everything," agreed Aymen Seulamani, 15, a cadet who's not sure whether he wants to pursue a military career.