13 August 2006
Profiling the Suspects: Converts to Islam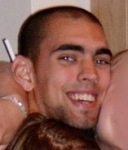 Three men who reportedly came to Islam as teens or adults are reportedly among those held in connection with the airline bomb plot
The name Don Stewart-Whyte is an unlikely fit with any racial-profiler's description of your typical Qaeda-inspired terror suspect. Yet, Stewart-Whyte, aka Abdul Waheed, who is believed to be either 19 or 21 and to have converted to Islam within the past year after what some neighbors describe as a troubled adolescence, has been reported by the British media as one of the 24 people arrested in connection with a plot to blow up U.S.-bound airliners. Nor was he the only convert among the named suspects. Among those on a list of 19 suspects named by the Bank of England on Thursday (which did not include Stewart-Whyte) was Oliver Savant, 25, who now goes by Ibrahim Savant and is reportedly a newlywed and expectant father who converted around 8 years ago. The list also included Umar Islam, 28, who was reportedly born Brian Young. It was revealed by the Bank in a routine step announcing the freezing of their assets following their arrest under Britain's Terrorism Act. One person arrested yesterday has now been released but, as yet, police have not disclosed the name of that individual.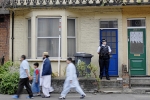 The three converts are part of a group of mostly British-born Muslims of Pakistani or Kashmiri origin. The details divulged by the Bank were sparse, of course, leaving the British media racing to fill out the picture. Neighbors told the Guardian how Stewart-Whyte, who lived with his widowed mother, changed after converting to Islam a year ago. "He grew a long beard and had shaved his head," said one. "The people he was hanging around with were different. Now he's with people who are religious. He doesn't speak to anyone around here since his conversion." Other neighbors told the Sun that Stewart-Whyte had had trouble with drugs and drink as a teenager. He once worked at a hairdressers and a local electronics store and had converted along with his sister. "About six months ago he said that he was converting to Islam because it all made sense and had just clicked with him…. His mother was not best pleased about it but after he converted he seemed a lot calmer and more at peace with himself." Friends of Savant, who works as a taxi driver, also provided the by-now familiar tales of the terror suspect as a young man who loved his football and hanging out with his mates before a religious conversion. According to Reuters he converted to Islam in 1997 or 1998, when he began wearing traditional dress, grew a beard and attended a local mosque.
The latest suspects, if they are proved guilty, will join a growing list of British extremist converts: Currently serving a life sentence for trying to blow up an American Airlines flight from Paris to Miami in December 2001 is "shoe bomber" Richard Reid, who is believed to have converted to Islam while in a young offenders' prison during the mid-1990s. And one of the July 7 London bombers, Jamaican-born Germaine Lindsay, reportedly changed his name to Jamal when he converted and was married to a white woman, also a convert, with whom he had a young son.
The Bank of England list reveals that the suspects were of a diverse age-range — 17 to 35 — and social class background: drawn mostly from in and around London, their home neighborhoods ranged from leafy suburbs to inner city slums. Their professions included students, entrepreneurs, and perhaps most chilling, a Heathrow Airport security official. And their family circumstances ranged from single to newlyweds and new fathers.
As details on both the plot and the arrested suspects trickle out, the country remains still at the "critical" threat level. Airport services are slowly returning to normal — though restrictions on hand luggage remain in place — and the government is trying to get back to business as usual under a storm of public criticism. With Prime Minister Tony Blair still vacationing in the Caribbean, Britons are looking to Home Secretary John Reid for answers, which he tends to give only elliptically for fear, he says, of compromising the ongoing investigation.
Acutely aware that the disrupted plot has turned attention back on Britain's Muslim population, the authorities pepper their statements with calls for patience and tolerance. "Common solidarity and common cause is, I believe, now our most precious asset," Reid said, "and we should foster it in all sections of our community." The police have put extra officers on the streets to protect Muslim citizens. But anti-terror efforts have left those British Muslim communities feeling victimized and sometimes skeptical over claims by the security services, particularly after a police raid in June saw a Muslim man shot and wounded in his home, only to be later released without charge. The Independent Police Complaints Commission judged the shooting as accidental, but it left many Muslims questioning police tactics. "I don't want to speculate if the police have overreacted in this case, but you just have to look at past cases," says Beena Faridi, spokeswoman for Britain's Islamic Human Rights Commission. "By and large, it turns out that the people arrested in these raids are innocent, and what people don't remember is that it's the families who have to live with the consequences."
Still, the police may have little choice in their efforts to weed out a growing number of terror suspects who have emerged from within law-abiding British Muslim communities. "These third generation terrorists may receive their motivation and stimulation from Al Qaeda but, on the operative level, they act independently," says Rolf Tophoven, head of the Essen-based Institute for Terrorism Research and Security Policy and Germany's leading expert on international terrorism. "They have been radicalized and turned to a kind of perverted Islam." Since homegrown terrorist groups "have metastasized in many places around the world," he says, "identifying, tracing and surveilling them will become increasingly difficult. Especially since it very hard to infiltrate groups of what shocked neighbors usually later describe as 'nice, ordinary young men.' " The 24 arrested suspects can be held for 28 days before they have to be released or formally charged. What happens after that will decide whether Britain changes the way it deals with suspected terrorists or sticks to business as usual.
— With reporting by Theunis Bates/London and Ursula Sautter/Bonn