26 July 2006
CAIR Gets DePaul Professor Suspended For "Offending" Muslim Students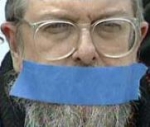 In my position with the National Association of Chiefs of Police, I get many reports, press releases and other documents on a daily basis. Because of time constraints, I may read perhaps one-third of them, giving
priority to Department of Homeland Security and FBI reports.
However, every once in a while I get something that angers me and compells me to research.
Such is the case with the one report that describes the unfair, almost Stalinist treatment, of a Chicago educator whose only transgression is he supports Israel's right to defend itself from terrorists.
Responding to what has been condemned as a violation of academic freedom, professors, scholars, and students worldwide signed a petition by The Scholars for Peace in the Middle East to reinstate Professor Thomas Klocek to his teaching position at DePaul University in Chicago, Illinois.
Klocek was suspended from the university following a campaign launched by pro-Palestinian student groups and the Council on American Islamic Relations (CAIR). Klocek believes in Israel's right to exist as a sovereign Jewish state within safe and secure borders.
CAIR and Muslim student groups told University officials that Klocek offended Muslim students when discussing Christian interests in Israel, disputing that Israeli treatment of Palestinians was akin to the Nazi treatment of the Jews, and then terminating the discussion when it appeared that the students were more interested in Israel-bashing than discussing the issues.
Titled "A Petition to Reinstate Professor Thomas Klocek to DePaul University With No Prejudice or Penalty," the petition is to be delivered to DePaul's president and Dean upon its goal of 2,000 signatures.
DePaul's Alleged Violations Of Academic Freedom
In an interview with Walking Eagle Productions, a documentary film company covering the DePaul controversy, Klocek said that he was suspended by DePaul administration, and ultimately lost his position and teaching benefits, after engaging in an out-of-class argument with pro-Palestinian students at a student activities fair on campus.
Klocek shared that he served 14 years a part-time adjunct professor in DePaul's School of New Learning and that he was considered a popular professor, with large class enrollments and received excellent student reviews, with no prior complaints about Klocek's behavior.
But after engaging in heated discussion with two Muslim student groups at a Student Involvement Fair on DePaul's campus, the student groups Students for Justice in Palestine (SPJ) and United Muslims Moving Ahead (UMMA) went to the administration to call for Klocek's firing. Both groups were backed by CAIR's Chicago office, and other local Muslim advocate groups, some of whom called for even harsher punishment.
Copyright 2004-2005 by The Post Chronicle™