19 March 2006
Saddam's Philippines Terror Connection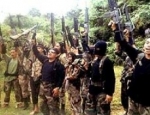 SADDAM HUSSEIN'S REGIME PROVIDED FINANCIAL support to Abu Sayyaf, the al Qaeda-linked jihadist group founded by Osama bin Laden's brother-in-law in the Philippines in the late 1990s, according to documents captured in postwar Iraq
An eight-page fax dated June 6, 2001, and sent from the Iraqi ambassador in Manila to the Ministry of Foreign Affairs in Baghdad, provides an update on Abu Sayyaf kidnappings and indicates that the Iraqi regime was providing the group with money to purchase weapons. The Iraqi regime suspended its support--temporarily, it seems--after high-profile kidnappings, including of Americans, focused international attention on the terrorist group.
The fax comes from the vast collection of documents recovered in postwar Afghanistan and Iraq. Up to this point, those materials have been kept from the American public. Now the proverbial dam has broken. On March 16, the U.S. government posted on the web 9 documents captured in Iraq, as well as 28 al Qaeda documents that had been released in February. Earlier last week, Foreign Affairs magazine published a lengthy article based on a review of 700 Iraqi documents by analysts with the Institute for Defense Analysis and the Joint Forces Command in Norfolk, Virginia. Plans for the release of many more documents have been announced. And if the contents of the recently released materials and other documents obtained by The Weekly Standard are any indication, the discussion of the threat posed by Saddam Hussein's Iraq is about to get more interesting.
Several months ago, The Weekly Standard received a set of English-language
documents from a senior U.S. government official. The official represented this material as U.S. government translations of three captured Iraqi documents. According to this source, the documents had been examined by the U.S. intelligence community and judged "consistent with authentic documents"--the professionals' way of saying that these items cannot definitively be certified but seem to be the real thing.
The Weekly Standard checked its English-language documents with officials serving elsewhere in the federal government to make sure they were consistent with the versions these officials had seen. With what one person characterized as "minor discrepancies," they are. One of the three documents has been posted in the original Arabic on the website of the Office of the Director of National Intelligence. A subsequent translation of that document is nearly identical to the English-language text that we were given.
These documents add to the growing body of evidence confirming the Iraqi regime's longtime support for terrorism abroad. The first of them, a series of memos from the spring of 2001, shows that the Iraqi Intelligence Service funded Abu Sayyaf, despite the reservations of some IIS officials. The second, an internal Iraqi Intelligence memo on the relationships between the IIS and Saudi opposition groups, records that Osama bin Laden requested Iraqi cooperation on terrorism and propaganda and that in January 1997 the Iraqi regime was eager to continue its relationship with bin Laden. The third, a September 15, 2001, report from an Iraqi Intelligence source in Afghanistan, contains speculation about the relationship between Iraq and al Qaeda and the likely U.S. response to it.