19 February 2006
Chinese Call for Birth Control in Muslim West Sparks Outcry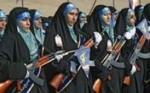 Calls for tougher birth control enforcement in China's Muslim west have provoked protests by activists who say such measures would lead to further human rights violations against
the region's native Uighur ethnic group.

Nur Bakri, a deputy Communist Party secretary of the Xinjiang region, said in a speech earlier this week that population control efforts would be redoubled over the next five years. Those efforts would focus on farming and herding areas where Uighurs tend to make up the majority, he said.

"The results of economic development will be canceled out by increases in population unless population size can be controlled," Bakri was quoted as saying at a conference Monday on population planning.

Since 1988, Uighurs have largely been limited to two or three children under an exception to China's strict policy allowing most families to have just one child. Human rights groups say the policy has led to coercive birth control and forced abortions and sterilizations, often under poor medical conditions.

Although Xinjiang's overall population has remained within government targets, its growth rate is among the highest in the country, Bakri said, according to a report of his speech seen Friday on the official http://www.tianshannet.com Web site.

"Population development has not been balanced; the birth rate is unstable," he said, singling out poor rural areas as a particular concern.

"We must increase government efforts in this area," he said.

Exiled Uighur activist Rebiya Kadeer said birth control policies are already strictly enforced in Xinjiang and questioned why rural women were being singled out for special attention.

Uighurs already have been marginalized by large scale migration of the majority Han Chinese to Xinjiang and China's heavy handed political and cultural policies in the region, she said.

"This is extremely bad news for the Uighur people _ Uighur women in particular," Kadeer said in a statement.

With a population of about 8 million, Uighurs make up the largest single ethnic group in Xinjiang, although they no longer form an absolute majority. A recent drive to develop the region's resources and infrastructure has brought a further influx of Han Chinese, with the region's capital, Urumqi, now boasting a population of 4 million, much of it Han.


2006-02-17 15:45
©2006 OhmyNews