06 February 2006
Catholic Priest Shot, Killed at Church in Turkey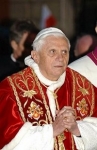 ANKARA, Turkey — A teenage boy shot and killed the Italian Roman Catholic priest of a church in the Black Sea port city of Trabzon on Sunday, shouting "God is great" as he escaped, according to police and witnesses
Officers were searching for the boy aged around 14 or 15, according to a police official who declined to be identified because of rules that bar Turkish civil servants from speaking to journalists without prior authorization.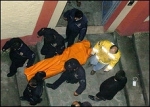 The police official would not say if the attack might be linked to the printing in European newspapers of caricatures of the Prophet Muhammad, which has caused anger in Muslim countries. Earlier Sunday, hundreds of Turks protested in Istanbul against the cartoons.
"Whether the killing is linked to the caricatures will emerge when the culprit has been caught," Trabzon's Gov. Huseyin Yavuzdemir said.
The priest, 60-year-old Andrea Santoro, was shot hours after Mass at Santa Maria Church.
A woman who answered the telephone at the church said the priest was inside when he was attacked, and prosecutor Burhan Cobanoglu said he was shot twice from behind, with bullets ripping through his heart and liver
Pope Benedict XVI's envoy in Turkey, Monsignor Antonio Lucibello, said he had spoken by telephone with a witness who said she saw the attacker fleeing and "heard the young man shout 'Allah Akbar' (God is Great)."'
Lucibello declined to speculate on the motive for the killing, but said there were "no elements" to link the attack with the protests over the newspaper cartoons.
Turkey's government denounced the attack.
"We condemn with hatred the fact that the murder was committed in a house of worship against a man of religion," said Justice Minister Cemil Cicek
POST BY FOXNEWS