29 January 2006
Bombs Target Four Iraqi Churches; 3 Dead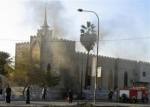 Car bombs exploded in a synchronized spree of attacks outside at least four churches in Baghdad
and the northern city of Kirkuk Sunday, killing at least three Iraqis and wounding nine, police said. The country's ceaseless violence killed at least 20 people, including 13
Iraqi
policemen and soldiers.
Meanwhile, Iraq's top Sunni Arab political leader accused Shiite-dominated security forces of pursuing a strategy of sectarian "cleansing" in Baghdad and said he opposed giving key Cabinet posts to Shiites — a stance likely to further inflame sectarian tensions.
Three civilians were killed and one wounded in an attack on the Church of the Virgin in Kirkuk at 4:30 p.m., Col. Birhan Taha said. That explosion came 15 minutes after another car bomb exploded outside an Orthodox church, wounding six civilians.
Both bombs were detonated by remote control, Taha told The Associated Press.
In Baghdad, a car bomb detonated at 4:10 p.m. outside St. Joseph's Roman Catholic church in the eastern Baghdad suburb of Sina'a, wounding two people, Maj. Qusai Ibrahim said.
About 20 minutes later, another vehicle exploded outside an Anglican church in eastern Baghdad's Nidhal area, causing no casualties, Lt. Ali Mitaab said.
The trial of Saddam Hussein and seven co-defendants resumed Sunday on accusations of involvement in the killings of more than 140 Shiite Muslims. The trial collapsed into chaos shortly after resuming, with one defendant dragged out of court and the defense team walking out in protest. The former Iraqi leader was then escorted out after he shouted "Down with the Americans!" and refused his new court-appointed lawyers.
The trial will resume Wednesday the earliest.
The leader of the main Sunni bloc in the next parliament, Adnan al-Dulaimi of the Iraq Accordance Front, indicated he would oppose awarding the vital interior and defense ministries to Shiites.
"We believe that the posts of the interior and defense ministers should be kept away from any sectarian and political considerations," al-Dulaimi told reporters during a press conference in Baghdad.
The Sunni stance sets the stage for a potentially fierce battle with predominant Shiite figures over who will win the portfolios. On Saturday, the head of the Shiite militia, the Badr Brigade, said Shiite religious parties will "never surrender" those ministries.
"We are subjected to a daily slaughter. We will not relinquish security portfolios," said Hadi al-Amri, head of the militia that is the military arm of the Supreme Council of the Islamic Republic in Iraq, the country's top Shiite group and the dominant force in forming the next government.
Control of the two ministries is expected to be one of the biggest obstacles to forming a new government with greater Sunni Arab representation, a key U.S. goal as the talks get under way after last month's election.
Sunni Arab politicians have insisted that the two ministries not go to people closely associated with the Shiite religious bloc, comprising SCIRI and Prime Minister Ibrahim al-Jaafari's Dawa Party, which won the biggest number of seats in Dec. 15 balloting.
Al-Dulaimi urged the outgoing Shiite-led government and U.S. forces to ease pressure on Sunni Arabs amid a series of house raids and arrests that have seen scores detained in recent days.
"Mosques and houses are empty because clerics and ordinary men are being chased as if there was a sectarian cleansing in Baghdad," al-Dulaimi said. "Violence only breeds more violence. I demand that this sectarian sedition be stopped.
"When the next government is formed, we will try to end such problems, but we are afraid that the people's patience will run out and the country subsequently will slip into turmoil and disaster."
Violence continued across Iraq on Sunday.
A roadside bomb in Baghdad's volatile southern Dora neighborhood killed one policeman and wounded another, police said. A car bomb blast killed a policeman in Baghdad's western Amariyah district, while two policemen were gunned down while leaving work following the end of their shift in the same area.
Drive-by gunmen killed two more policemen as they left the Khadra police station, also in western Baghdad, after finishing work, police said. An Iraqi medic also was killed after leaving work at western Baghdad's Yarmouk Hospital, said Dr. Muhannad Jawad from the hospital.
A police captain was gunned down in Beiji, 155 miles north of Baghdad, while an ambush in Baqouba, north of Baghdad, killed one policeman and wounded another, police said.
A massive car bombing killed four Iraqi soldiers and wounded six more in Saddam's birthplace of Uja, about 75 miles north of Baghdad, army Capt. Ahmed al-Azawi said.
It was unclear if the attack was linked to Saddam's trial, the resumption of which was marked by a tough new chief judge taking the stand, the ejection of Saddam's co-defendant Barzan Ibrahim and eventual walkout of the former president himself.
A former high-ranking general in Saddam's disbanded army, Lt. Gen. Mahmoud Idham, was assassinated near Tikrit, 80 miles north of Baghdad, police said. The motive for the attack was unclear.
The U.S. military announced the death of an American soldier in a roadside bomb blast in Baghdad on Saturday. The military had previously reported the death of another soldier in a similar but separate attack Saturday in Baghdad.
At least 2,241 U.S. military personnel have died since the war began, according to an Associated Press count.
U.S. spokesman Maj. Jeff Allen said a shootout erupted at a checkpoint in Kirkuk, 180 miles north of Baghdad, and three men wearing Iraqi police uniforms inside a car were shot dead.
American troops captured a fourth man in the car but found no police identity documents on the men. Iraqi police Brig. Serhad Qadir said the four were suspected insurgents disguised as policemen. The U.S. military was investigating the situation.
___
Associated Press writer Sameer N. Yacoub contributed to this report.