26 January 2006
Scared teachers seek to leave Thai Muslim south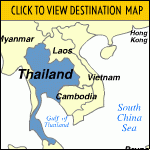 LAHAN, Thailand, Jan 25 (Reuters) - A month after the siege at Lahan school in Thailand's restive Muslim south, Buddhist teachers say they are scared and want transfers out of the region where 1,100 people have died in separatist violence
By Nopporn Wong-Anan
The government school re-opened on Monday a month after nine teachers were held by 50 students and parents in protest against the police detention of two men from the village in the province of Narathiwat.
"We just couldn't believe those people were the same pupils whom we taught and cooked lunch for every day," said a Buddhist teacher who thought he would be killed by the angry crowd.
Pupils, aged 6-14, and parents had blocked the school's main gate after the local mosque announced on its loudspeakers that two Muslim men had been arrested by the police.
"When I looked into their eyes, they just looked so indifferent to what they were doing," said the teacher, who declined to be identified.
Teachers and state-run schools have been frequent targets as symbols of the government of overwhelmingly Buddhist Thailand in faraway Bangkok.
After the siege, the Baan Lahan School was closed for a month because teachers said they were too afraid to teach their students turned hostage-takers.
"We were too demoralised to come to teach those pupils on the following day. The provincial education ministry office told us to rest to restore our morale," said the teacher.
Lahan is one of several villages in the area believed by security officials to be a hot spot in the violence-plagued region, where deadly attacks have killed security personnel and civilians, Buddhists and Muslims alike, including teachers.
After classes were suspended, the school became a security post with 50 soldiers and police camped in the classrooms and parking their patrol vehicles in the compound.
The villagers eventually asked the teachers to resume classes, promising that they would not be harmed.
The teachers now travel to and from the school in a motorcade of heavily-armed troops and police on motorcycles and in a Humvee military truck.
The 5-kilometre (3 miles) route to the school passes by lush rubber plantations where two policemen and one Buddhist civilian have been killed in bomb and gun attacks that have marred the Malay-speaking region in the past two years.
Although no teacher from the Lahan School has been killed in the violence, half of its original 20 teachers have left the area and others are seeking to get out.
"We are all stressed out here," said another Buddhist teacher. "I have requested to be transferred out of the school for a year after 11 years of teaching in this region. The pupils just don't feel connected to their teachers here."