11 January 2006
Al-Qaeda Cell in Spain May Have Been Planning Attack in Europe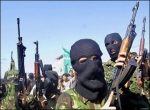 Jan. 10 (Bloomberg) -- One of the al-Qaeda cells arrested early today in Spain may have been planning an attack in Europe, Spanish Interior Minister Jose Antonio Alonso said.
Spanish police arrested 20 people comprising two cells following raids in Madrid, Catalonia and the Basque region, Alonso told reporters in Madrid. The cells were primarily involved in recruiting and training suicide bombers for the Iraq insurgency, he said.
Those arrested included 15 Moroccans, a Turk, an Algerian and three Spaniards. The Algerian, leader of the Madrid-based cell, was trained in Afghanistan, Alonso said.
Spanish authorities have arrested 52 people suspected of involvement in Islamist terrorism in the past two months.
Spain, with historic links to Muslim North Africa across the Gibraltar Straits, was used as a base by Islamists involved in the Sept. 11, 2001, attacks on New York and Washington and others linked to the Casablanca bombing of May 2003.