16 January 2006
FRANCE: FATHER IMPRISONS WIFE & DAUGHTERS "IN THE NAME OF ISLAM"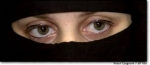 Father imprisoned four girls in flat to 'teach them Islam'
Moroccan father of four girls who imprisoned his wife and children in their flat "in the name of Islam" received a 10-month suspended sentence and was stripped of his parental rights yesterday.
The unidentified 45-year-old was found guilty of breaking French law on compulsory schooling for children over the age of six, which applies to three of the four girls - aged four, 10, 13 and 14.

The man, from the town of Romans-sur-Isère in the Drôme region, said he had refused to allow the girls to go to school without the Islamic headscarf, which is banned in state classrooms.

An unemployed benefit claimant, he argued that he was the "only person able to give them a decent education".

But the judge ruled that the children could have studied the state curriculum from home by correspondence.

The girls, all born in France, had rarely left their flat in La Monnaie, a poor housing estate, and had never got further than the lobby.

They were forbidden to play with toys, watch television or read anything other than the Koran. Their only permitted activities were crochet and cleaning. None of them speaks a word of French.

Social services acted after the eldest rang a child abuse hotline last summer on the advice of a social worker she met outside the flat.

The man's wife, who was not charged, has been moved far from Romans-sur-Isère, near the children's new home, and is allowed to visit them.