15 December 2005
Church fire adds to Sydney jitters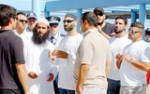 The premier of New South Wales said a fire that broke out at a church hall yesterday may be related to recent violence between whites and ethnic Arabs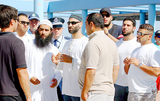 United Muslims of Australia spokesman Saed Kanawati (center in green hat) speaks at a meeting between Muslim leaders and representatives of the Maroubra surfers' gang dubbed the ``Bra Boys'' held at Maroubra Beach in Sydney yesterday. The meeting was called to try to bring an end to recent racially motivated violence.
PHOTO: EPA
Four men were seen near the Uniting Church hall, which is next to an Islamic center in the multicultural suburb of Auburn, before the fire broke out in the early hours of the morning.
"I've been in contact with the police this morning and the police are treating it as suspicious," New South Wales state Premier Morris Iemma said.
Asked in a television interview if the blaze -- finally contained after two hours -- was related to the recent race riots in the Sydney suburbs, Iemma responded: "It may be."
Dozens of people have been arrested and injured since Sunday in the nastiest racially-motivated unrest in Australia for decades, prompting authorities to deploy hundreds of extra police officers to avert further violence.
Also in Auburn, a Christmas carol service at a Catholic primary school was disrupted on Monday evening when men of Middle Eastern descent fired shots into parked cars and verbally abused parents and children.
No one was hurt in the incident, which was condemned by Sydney's Catholic Archbishop Cardinal George Pell as being "apparently motivated by religious intolerance."
Pell appealed for calm and tolerance between Sydney's Christian and Muslim communities.
"This violence is unacceptable, as unacceptable as the violence perpetrated by Anglo elements on Sunday at Cronulla," Pell said, referring to attacks by white mobs on people of Middle Eastern appearance in the beachside suburb.
"All Australians -- those of no religion, other religions, Christian or Muslim -- have a right to be left alone to go about their business in peace, to enjoy the holiday season peacefully, to worship peacefully," Pell said.
Iemma said police would now closely monitor places of worship.
"Special attention will be paid to places of worship, our churches and our schools," he told reporters. "Obviously we have to be on guard for this, and these hooligans and criminals will not destroy the fabric of our society."
Iemma has recalled the state parliament from its Christmas break for an emergency meeting Thursday at which it is expected to pass a raft of new laws that would grant police greater powers and allow for stiffer jail terms.
The premier welcomed a four-month jail term that was imposed on the first of the rioters brought before the courts, describing it as "swift justice."
The man, arrested with a tree branch in the early hours of Monday, was convicted of possessing an offensive implement.
Sydney was mainly quiet on Tuesday night as hundreds of police descended on troubled suburbs to prevent a new outbreak of violence, arresting five people, mainly for carrying weapons.
New South Wales Police Minister Carl Scully said, however, that more unrest was expected and hundreds of police would be on duty at the weekend as text messages encouraging violence continued to circulate.