14 December 2005
Putin Calls Russia Islamic World's Most Reliable Ally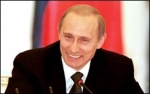 Russia is the Islamic world's most reliable partner, President Vladimir Putin said in Chechnya on Monday, implying that by attacking Russia, terrorists were doing their cause a disservice.

Putin paid a surprise visit to Grozny, capital of the war-torn Islamic region, to address the opening of the first session of the local parliament.
"Russia has always been the most faithful, reliable and consistent defender of the interests of the Islamic world," he told Chechen lawmakers, to applause. "Russia has always been the best and most reliable partner and ally."
"By destroying Russia, these people [terrorists] destroy one of the main pillars of the Islamic world in the struggle for rights in the international arena, the struggle for their legitimate rights," Putin added.
He said the leaders of key Islamic states understood this, which was why the Organization of Islamic Conference (OIC) and the Arab League sent observers to monitor recent elections and a referendum on a constitution for Chechnya.
While Western organizations refused to serve as observers, the Arab and Islamic bodies sent delegates and gave the elections their approval.
Expanding on Russia's ties to the Muslim world, Putin said OIC member states had unanimously agreed to admit Moscow as a permanent observer.
"Recently a delegation of Russian Muslims has been to Mecca to discuss the problems of Muslim world development with their brothers," he said. "Russia will pursue this policy."
Russia has a total population of some 144 million, of which more than 20 million are Muslims.
Although the OIC agreed to make Russia a permanent observer, a request from India to join the body four years ago was turned down.
India is a predominantly Hindu country, but its Muslim minority is the second largest Muslim community in the world, after Indonesia, and is much bigger than Russia's.
Putin's comments are seen here as the latest step in a strategy to reposition Russia as a strong ally of the Islamic world. He seems eager to combat any perception that the conflict in Chechnya is a battle between Christianity and Islam.
The president, who flew to the parliament building by helicopter, asked members of the new parliament to focus on restoring law and order -- "a complicated task for Chechnya and the Russian Federation as a whole."
Chechens cast ballots on Nov. 27 in the region's fourth vote since 2003 to elect a new
parliament, whose aim is to allow the region to function as a normal part of the Russian state following years of conflict.
The election, in which the United Russia party won the largest number of seats, has been cited by the Kremlin as proof that the southern region is stabilizing, despite continued armed violence.