09 December 2005
Islam feminists urge gender jihad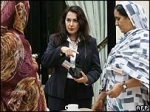 Organisers of the first international congress on Islamic feminism are calling for a "gender jihad".
The congress is being held in Spain, organisers say, because they want their message to reach the growing number of Muslim women in Europe.
Around 300 delegates are looking at women's rights in the Islamic world.
Mr Prado, of the Catalan Islamic board, believes a common misconception in the West is that women's liberation is not possible in Muslim societies.
Activists representing the Islamic feminist movement are in Barcelona to counter that view and discuss ways of achieving female equality in an Islamic context.
Collaboration
Among the delegates is the Pakistani feminist Riffat Hassan, regarded as one of the pioneers of Islamic feminist theology.
Also here are representatives from the international association, Islamic Feminism.
Islamic Feminism argues that the inferior legal and social status of women in Muslim countries is a result of misogynistic distortions of the teachings in the Koran.
Organisers say they want more collaboration with western feminists but say non-Muslim feminists need to challenge their anti-Islamic stereotypes.
---
What do you think should be done to address misconceptions of women and Islam? Send us your comments