22 October 2005
Islamic Riot in Alexandria againist Christians - Time Line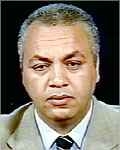 10/03/2005 ::
- Mr. Mostafa El Bakry, Chief Editor and CEO of El Osboa Newspaper stated that a play was performed at Saint George and Antonious Coptic Church, that insulted Islam and the Muhamed the profit. He demanded an apology from the church and the Pope.
- Same week, Thousands of CDs were distributed in Cairo colleges and labeled "Ramadan Gift". The CD contained the Play. In the begining of the play there was a comment; "This play is blessed and approved by Pope Shenouda" ...This CD was distributed by either Islamic extremists and/or Security Forces.
- El Sheikh Aly Gomaa from El Azhar and Pope Shenouda confirmed that the play did not insult Muslims.

10/14/2005 ::
- After Friday's prayers, around 5,000 Muslims created a demonstration and headed to Saint George and Antonious Coptic Church.
- They tried to enter the church, but the police stopped them
- They released a statement that the pope must apologize, or else !!

10/19/2005 ::
- Nun Sarah got stabbed five times by the church doors and Mr. Kamal Michelle got stabbed one while defending here.
- Security arrested the stabber, who was shouting "Allah Akbar, Allah Akbar"

10/21/2005
- After Friday's prayer and around 12 noon , 10,000 protestors gathered in front of Saint George and Antonious Church. And started a RIOT,
they threw heavy rocks, try to enter, destroy and burn burn the church but the security were there and no one was able to get in.
- By the time of their Break-Fast and around 6:00 p.m., they ate in the street while security forces are watching ... Then they attacked the surrounding churches; seven churches to be exact; throwing rocks. They succeed to burn several churches after stealing its belongings. They burned bibles in multiple churches [watch our video].
- They looted 25 stores and burned multiple cars, all owned by Christian stole
- Some islamic properties got damaged as well
- This continued till 4 am. Unfortunately the police lost control.

10/24/2005
Al-Fagr Newspaper revealed the threats made against the Pope
- The Extremists approved the murder of POPE, "God wills it, they say"
- Multiple threats against priests and Coptic businessmen.
- The Extremists approved the murder of priests, pastors, and Christians civilian's; "Kill infidels, they say".